Do you have a long layover in the wonderful city of Tokyo, Japan? Or maybe you want to cram as much as possible into a trip? Here's my list of things to do for one of the longest, fun-filled days you'll have. This is an itinerary for the brave, ruthless, and over-achieving travelers. It includes some of the best breakfasts in Tokyo, Sightseeing-spots, fun districts and more. In general, the activities are in a decent order, letting you travel from location to location without wasting much travel distance or time.
[Disclaimer: I wrote this as a joke, but this was my real itinerary for a 'day' in Tokyo. Take caution.]
BREAKFAST
The most important meal of the day, and you'll need it to fuel up for what's ahead. Luckily, Tokyo is full of trendy and delicious breakfast restaurants and cafes that are open at a reasonable hour. Here's a list of my favorites, with their addresses and start times. Click them for the websites. Warning: if you get to these after their opening hours, you may find yourself waiting in line. Also, I've only included the locations easily accessible and within the city center of Tokyo.
AFTER
a leisurely breakfast, it's time to get the day started. Make your way to the first stop of the day: Asakusa and the Sensoji (浅草寺, Sensōji, also known as Asakusa Kannon Temple). The closest station is the Ginza subway line to Asakusa. The temple grounds are always open, and entrance is free.
(浅草寺, Sensōji, also known as Asakusa Kannon Temple) is one of Tokyo's most famous temples, located right in the middle of the city. The long street leading up to the temple is lined with various shops and stands. Try some Japanese sweets or grab a souvenir. The best bite on this road is the famous melon-pan (despite the name, it has nothing to do with melons). Walk the surrounding garden area, pull a fortune, and toss a coin into the grate.
There's a lot to see in this area. Keep an eye out for the Tokyo Skytree. It's a cool building, but not necessary to go up.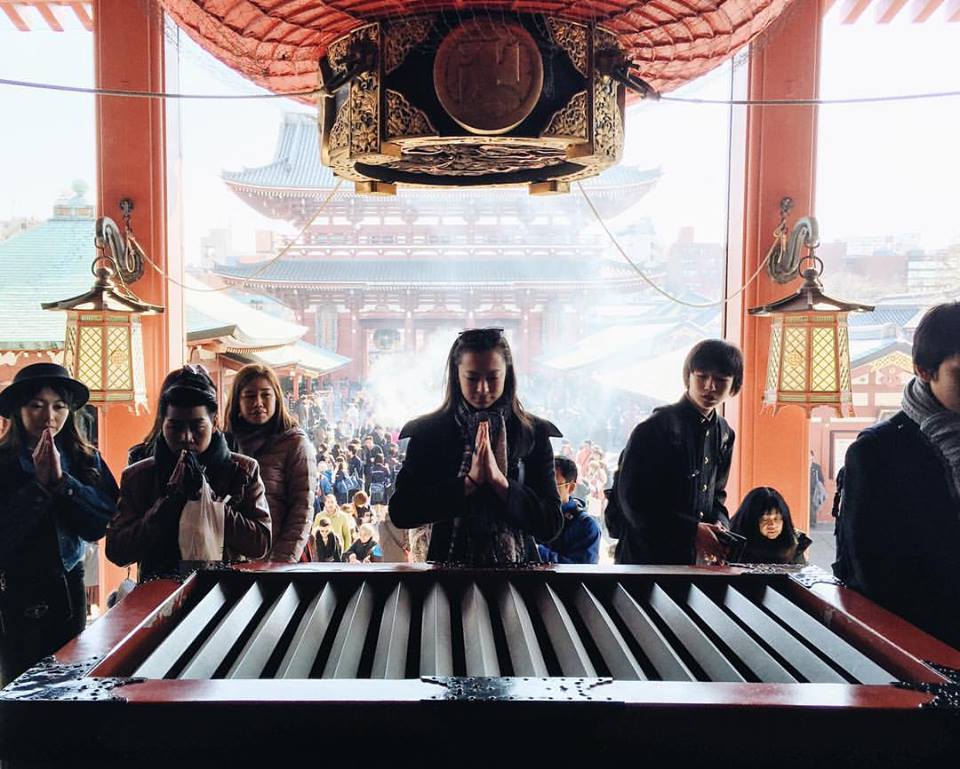 AKIHABARA
Back onto the JR Yamanote line a few stops towards Akihabara. This area is every geek and anime freak's dream. The small-alley electronics area is cool to see as well. You can find any electronic part or gadget ever dreamed of. But the real point of this district is to fulfill the desires of anime, manga, and video game lovers. You'll find maid cafes and people dressed up in costumes. It's not my area of interest, but make a quick stop here if you want.
Swing back on the JR Yamanote line all the way across the city to:
HARAJUKU
Near this station is a famous street: Takeshita-Dori. Fondly named 'take-a-shit street,' by certain foreigners, this street is crowded with funky shops, costumed kids, and lots of tourists. The sensory overload is so real that you might crap your pants (hence the name. Not really – but you'll understand when you go.)
For a snack, grab a crepe, which are famous in this area. Japanese crepes are my absolute favorite. I recommend Marion Crepes, located near the center of Takeshita-Dori. It's one of the oldest crepe shops still standing.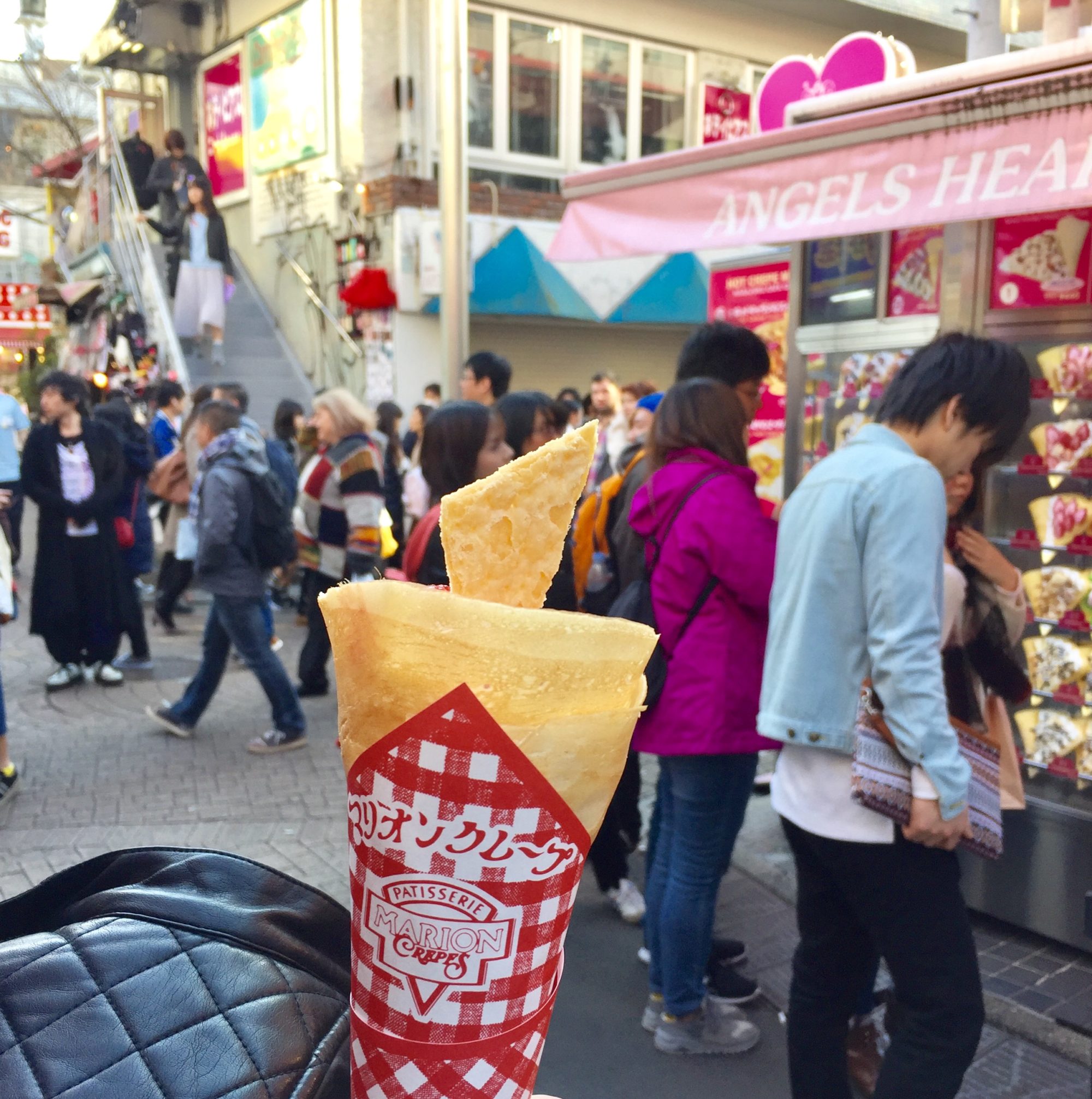 You can find priceless clothing pieces in these shops as well. When you've had your fill, or simply want a break, swing back towards Harajuku station for another famous temple:
MEIJI-JINGU
The stroll leading up to the temple is amazingly peaceful. After seeing the craziness of Takeshita-Dori, it's interesting to experience the stark contrast between the two worlds! (especially in such close proximity – literally right across the road).
The buildings were under construction while I was there recently. I'm not sure for how long, either.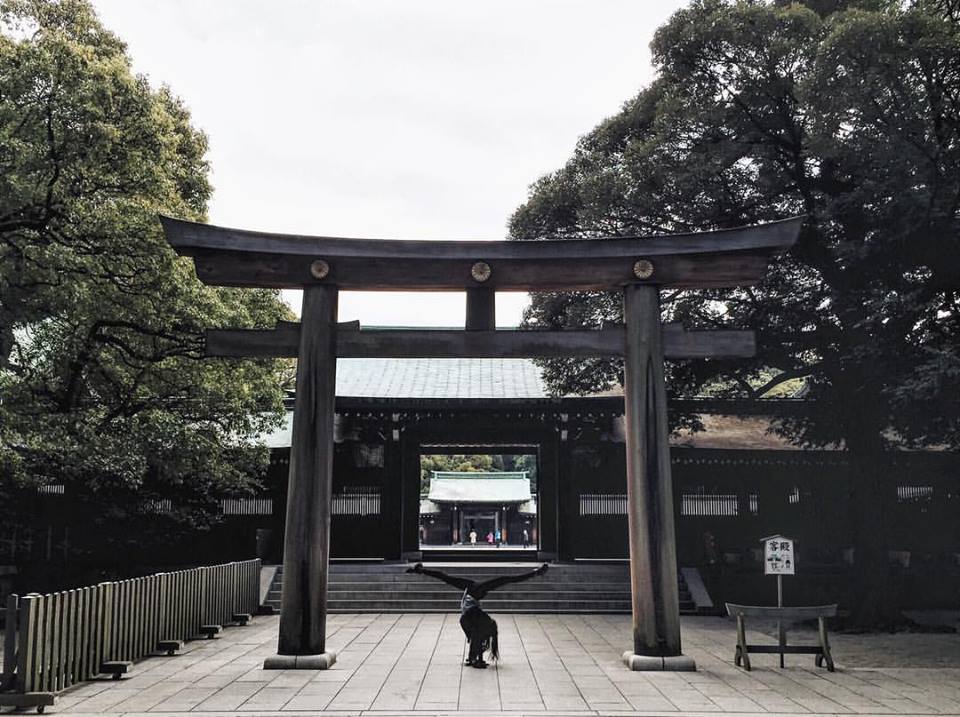 OMOTESANDO
This street extends between the areas of Harajuku and Shibuya. There's SO much to see along this streets and the network of small side-roads that fork left and right. It's also super easy to get lost, so bring your GPS. Flagship fashion stores, retro shops, they just go on and on. Make sure to grab a coffee along the way too. Here's a few options in the area:
Lotus Cafe (4-6-8 Jingumae Shibuya-ku, Tokyo)

Dominique Ansel Bakery

 

 [Famous for cronuts. Get here after 3pm for their cookie shots]
You may want to grab lunch at one of the hip-and-trendy cafes in this area. I would list some recommendations, but to be honest, I have yet to be disappointed with any meal in Tokyo. Try something new! After spending the majority of the afternoon getting lost along the winding streets,, make your way towards Shibuya station.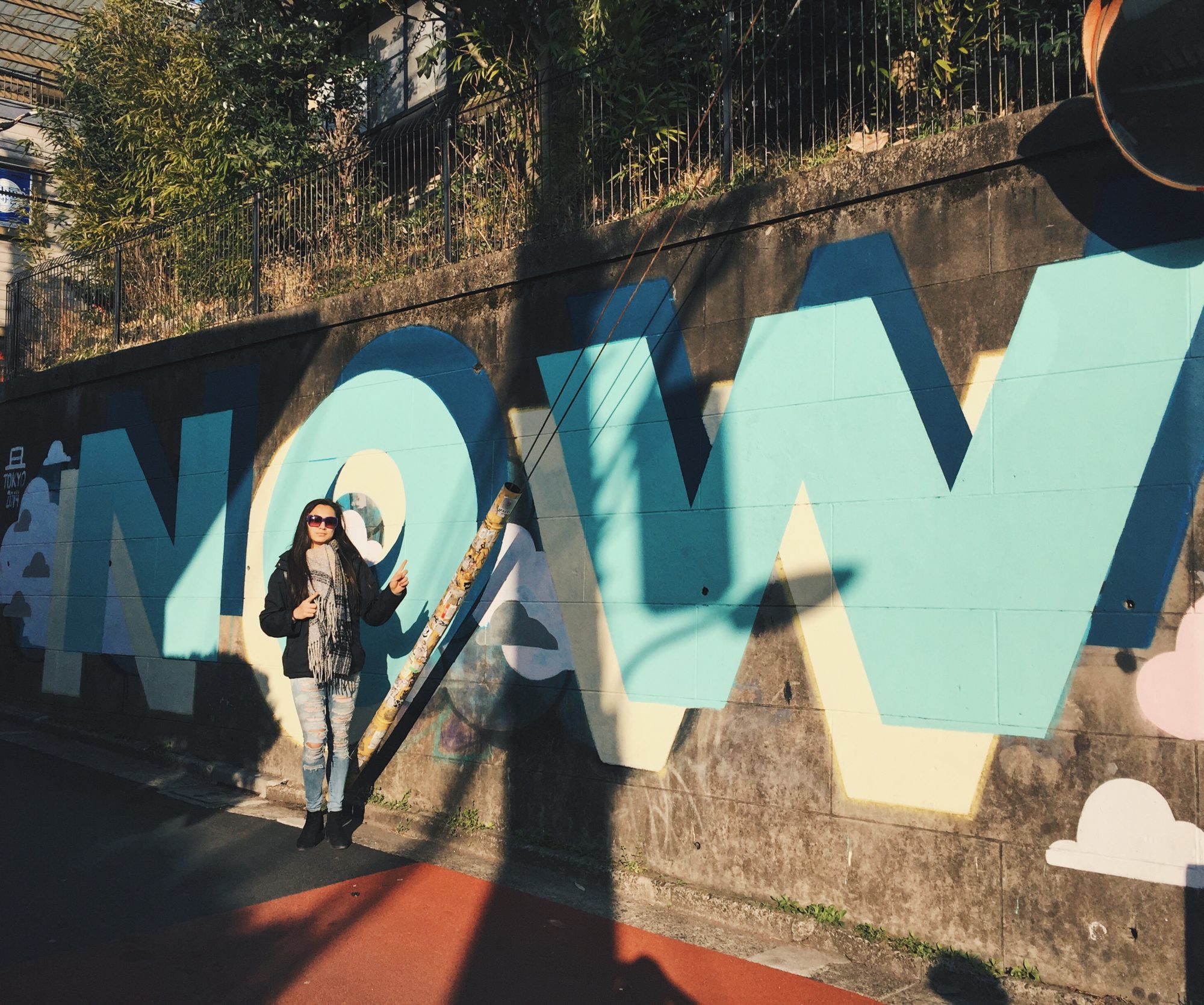 SHIBUYA CROSSING
Located near Shibuya station, Shibuya Crossing is an interactive tourist attraction. Stand at the corner and when the pedestrian light turns green, let your sense of self melt away as you join the mass of people. Also here is the HACHIKO statue. It's a small statue of a dog, famous for some reason.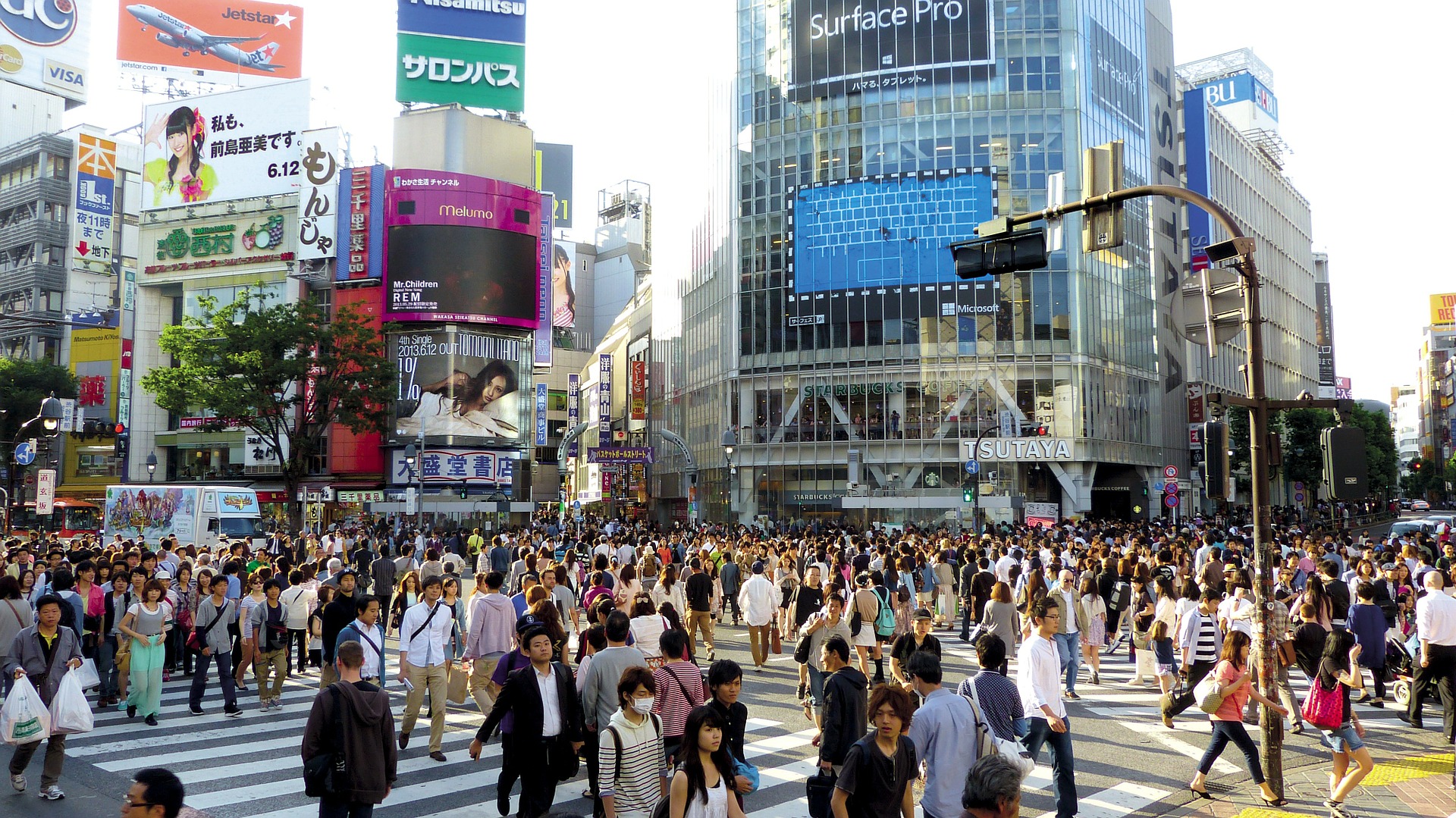 EVENING
As the sun goes down, the lights illuminate this sleepless metropolis. Hopefully you're still alive, and not too overstimulated. There are many options for your evening, which is sure to be full of great food, novel discoveries, and maybe even… disco lights?
PISS ALLEY
Woah, what? There's an area in the Shinjuku district of Tokyo with tons of vibe and personality. A narrow road called Omoide Yokochou ('Memory Lane') is probably the last place you'd imagine when you think of the proper, clean, and organized Japan. Adoringly nicknamed, 'Piss Alley' (Shouben Yokochou – Yokochou means 'side street') this street is murky and cramped. You'll find drunk businessmen teetering up and down, shouting merrily while nibbling on bites of yakitori (variety of skewers) to accompany their pints of beer.
Don't let the name scare you away, it's only reminiscent of the past, a place where questionable characters got together and hygiene wasn't a priority. However, don't come here with a big group. The 'restaurants' have extremely limited seating. You can find some REALLY weird food on piss alley… pig testicles, snake liquor, frog's heart that's still beating…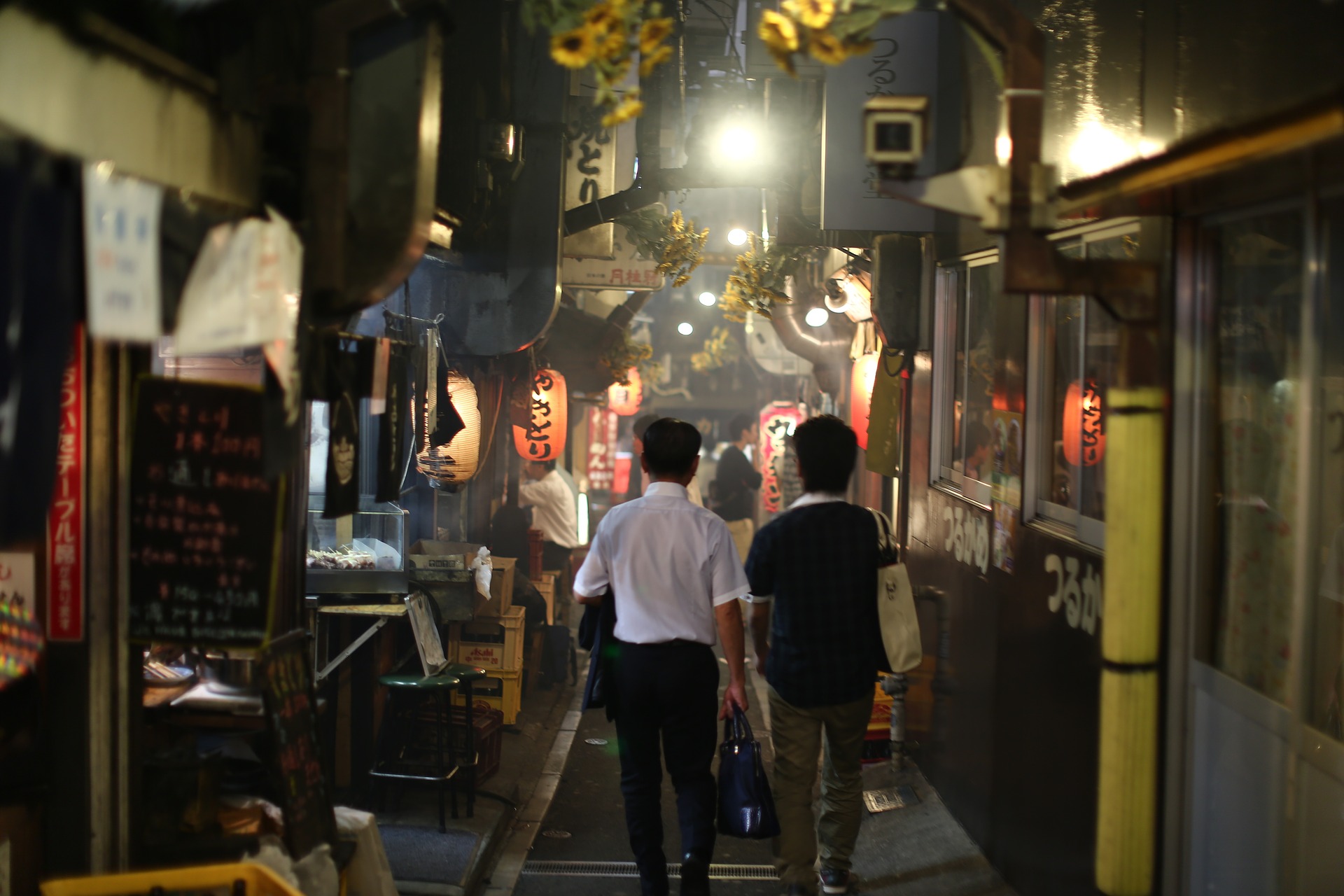 GOLDEN GUY
Full belly? Lost appetite? Moving on to drinks, you're in the right area. Golden Guy (Golden District) is a few blocks buzzing with small, unique bars. Sometimes you'll be turned away, but keep trying! You'll soon find a spot that has an empty seat and serves non-regulars.
For a more thorough description of foreigner-friendly establishments and useful vocab, check out this article.
CLUBS
Since you probably missed the 'shu-den' or 'last train,' you might as well stay up all night. Put on your dancing shoes and grab an extra vodka shot, for courage! The Japanese may be stereotyped as tame and quiet, but insert alcohol and loud music and they're as wild as anyone.
5 best nightclubs in Tokyo area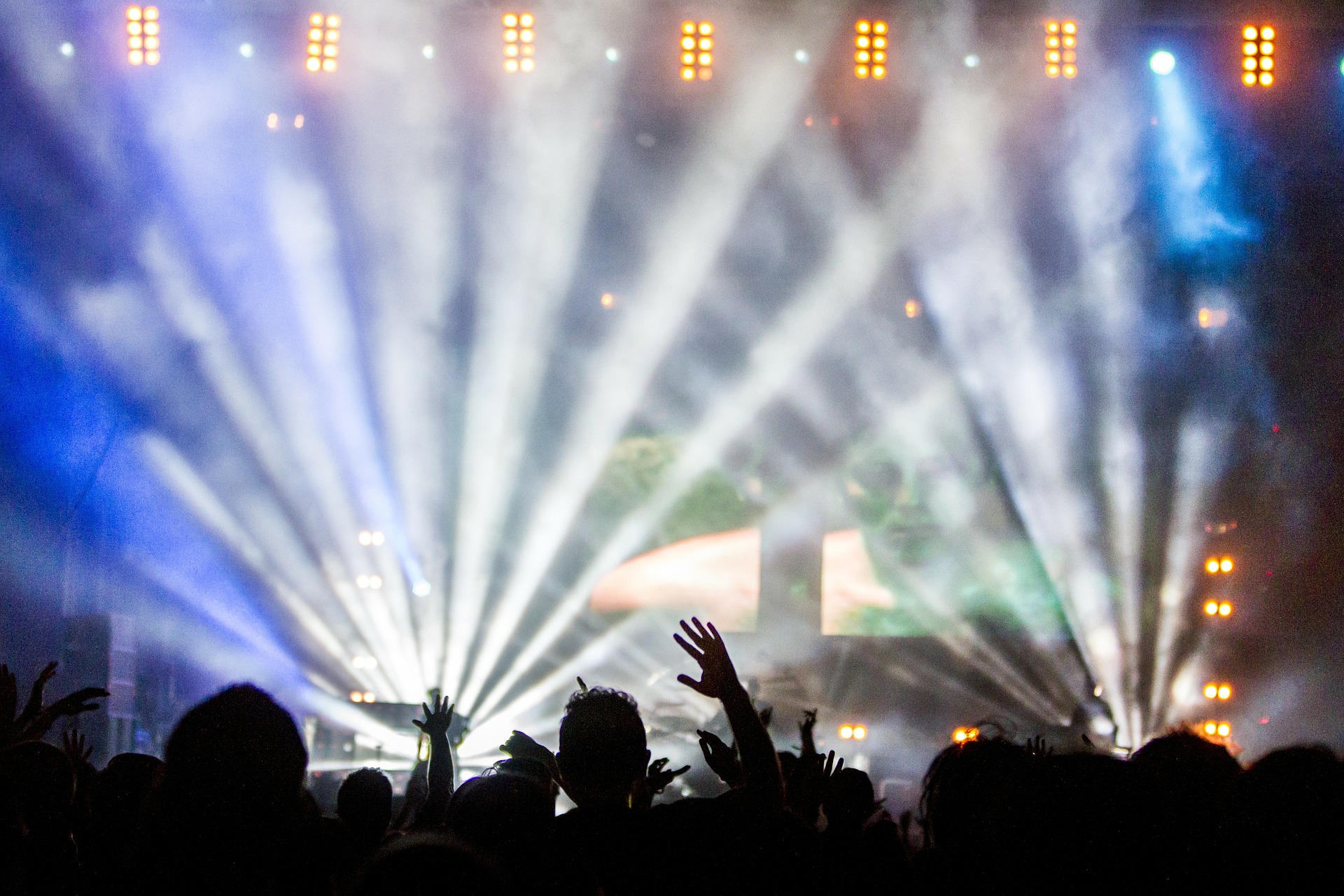 TSUKIJI
Still alive? Good. Depending on what time you leave the club, your options with the Tsukiji fish market will differ. If you're out by 3 am, head over to get in line to the tuna auction. There's a limited number of spots (and closed on Sunday), so try your luck.
This article tells you everything you need to know if you're trying for the tuna auction. 
More like 4-5am? Hop in line for the best sushi experience you'll ever have. The line often extends down the block and around the corner for these small establishments. Often only seating ~ 10 people, you're getting the freshest selection imaginable. Enjoy the experience if you manage to make it in. The two famous ones are 'Sushi-Dai' and 'Daiwa Sushi.'
Between 9-10, the outer market opens up. More narrow streets lined with shops that sell food, fresh fish and produce, along with knives and a variety of other kitchen-related objects. Check it out.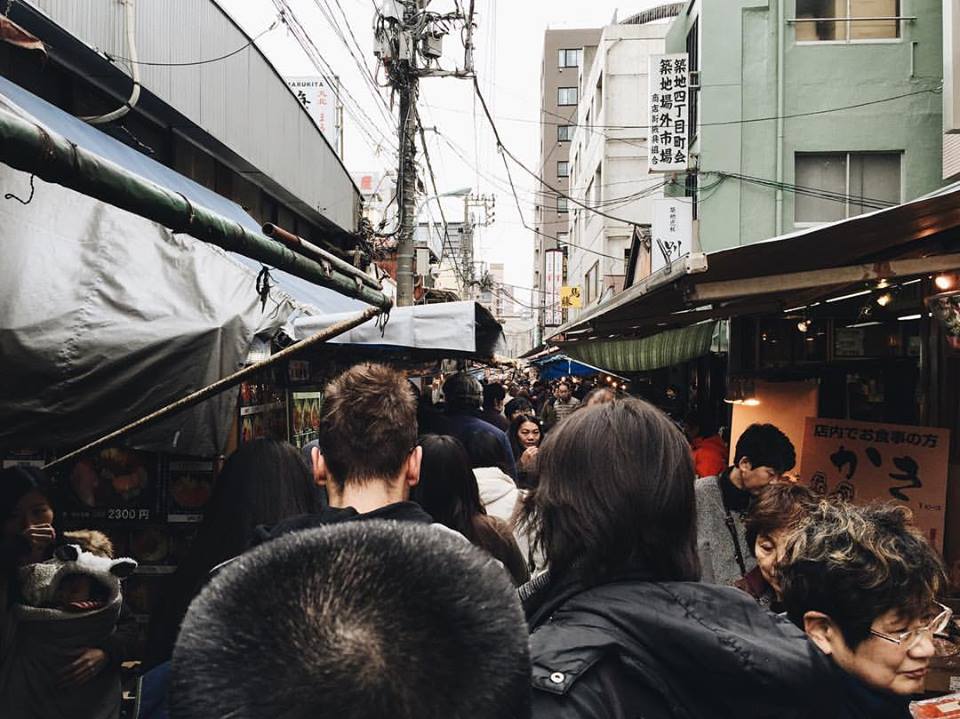 AFTER
The beautiful meal, the sun will be up. Congratulations! You've just made it through one of the most fun-filled and exhausting days of your life. Grab a cup of joe and continue on merrily, or go to your hotel and crash. Or just sleep on the train.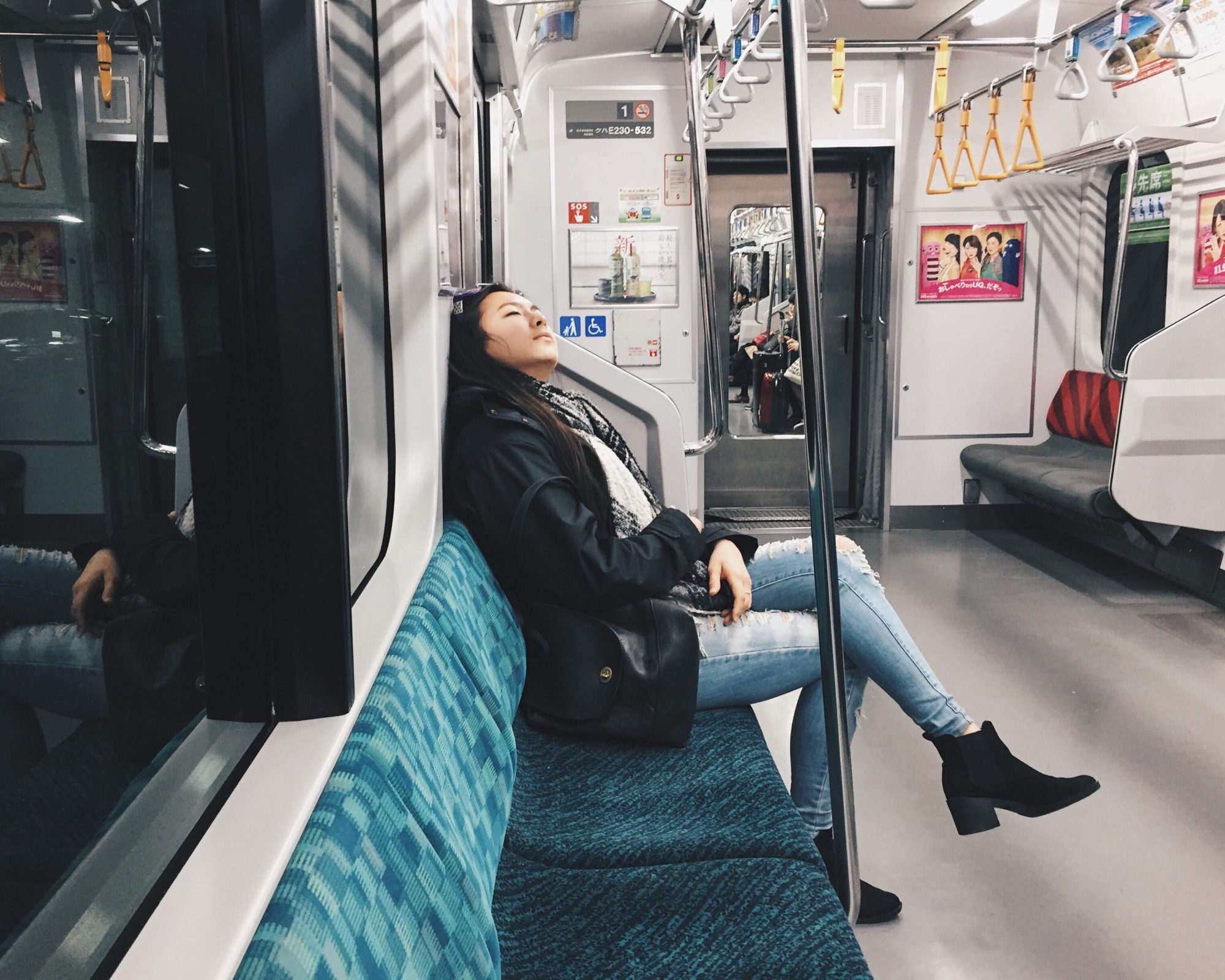 …
8/31 #YearOfChallenge