Have you ever wished there were more meals in a day? That's how I felt during my time in Seminyak, Bali. The cafe scene is spot on, unique atmospheres with delicious dishes and elegant espressos. I found myself cafe-hopping daily, and despite spending two weeks there, didn't get to hit all the spots I'd hoped to (a great reason to go back!).
This was my second trip to Bali. During the first, I traveled around quite a bit, hitting the east coast at Sanur, the central area at Ubud, and the southern-west coast in Jimbaran. This time around, I wanted a real do-nothing vacation. So I planted myself in Seminyak, Bali. I didn't even rent a scooter.
(Note: This list is exclusively cafes in Seminyak, all walking distance if you stay in town. There are many more amazing cafes to be found around Bali. Rent a scooter and visit areas like Canggu, and Ubud for more incredible spots. Also, this list is geared heavily towards breakfast and brunch. Major eateries for lunch/dinner/drunk-food are not included in this list.) 
It's important to mention the quality that you're getting for the price. Bali is definitely less expensive than most travel destinations, but these cafes do charge more than most local eateries. Considering what this kind of food and ambiance would cost in other countries, it's important to remember that you're getting a great deal. So eat your heart out.
Without further ado, and in no particular order, here are my picks for the top 5 best cafes in Seminyak.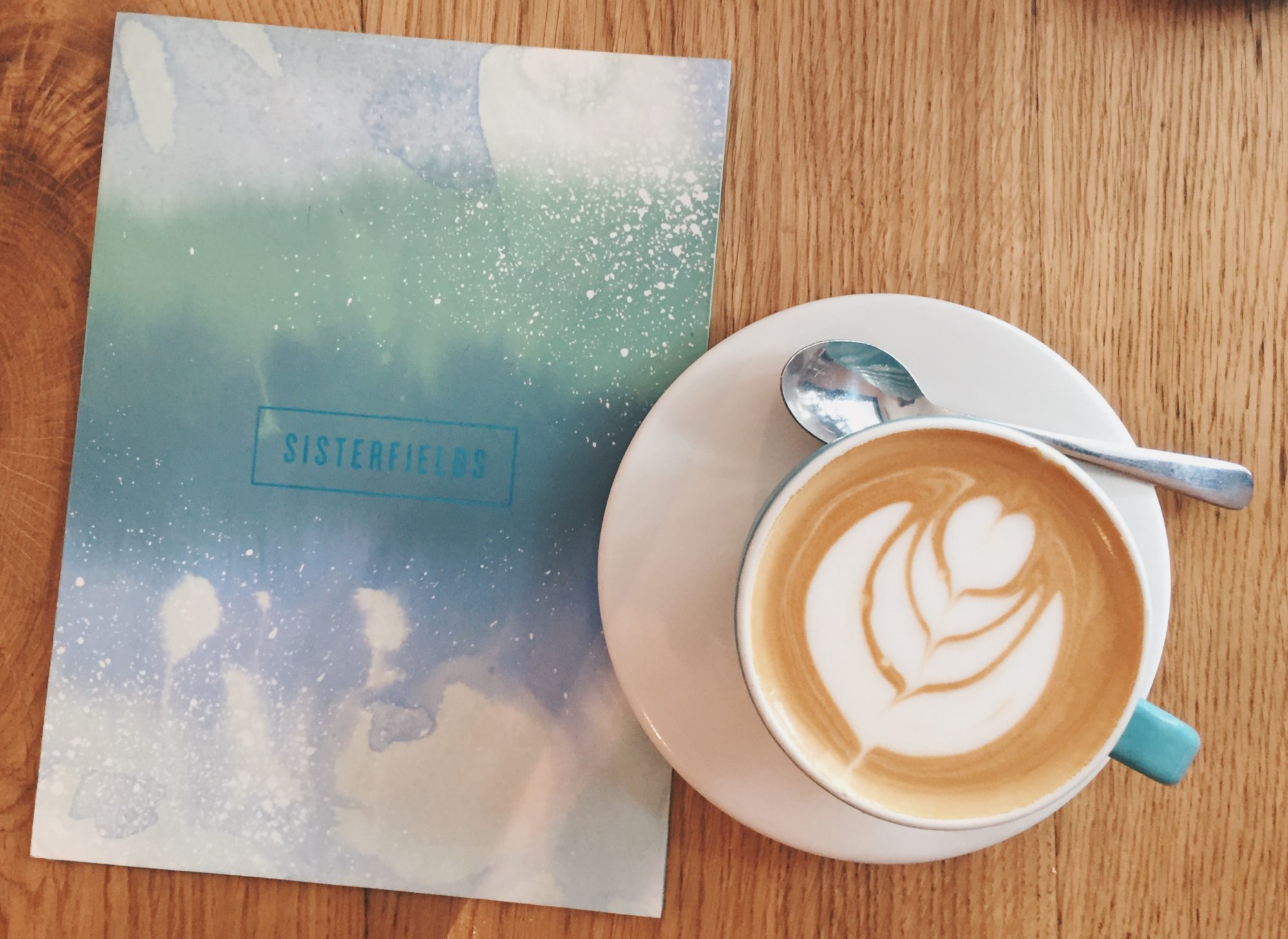 Sisterfields cafe is one of the most popular eateries in Seminyak. Located in the heart of town, near Seminyak Square and the new Seminyak Village, arrive after 10 am and the place is sure to be packed. They have an all-day menu, and are open from 7am – 10 pm, 7 days a week.
It's important to mention that my first coffee at Sisterfields, an almond milk flat white, was the best coffee I had the entire time in Bali. This cafe raised the bar very, very high.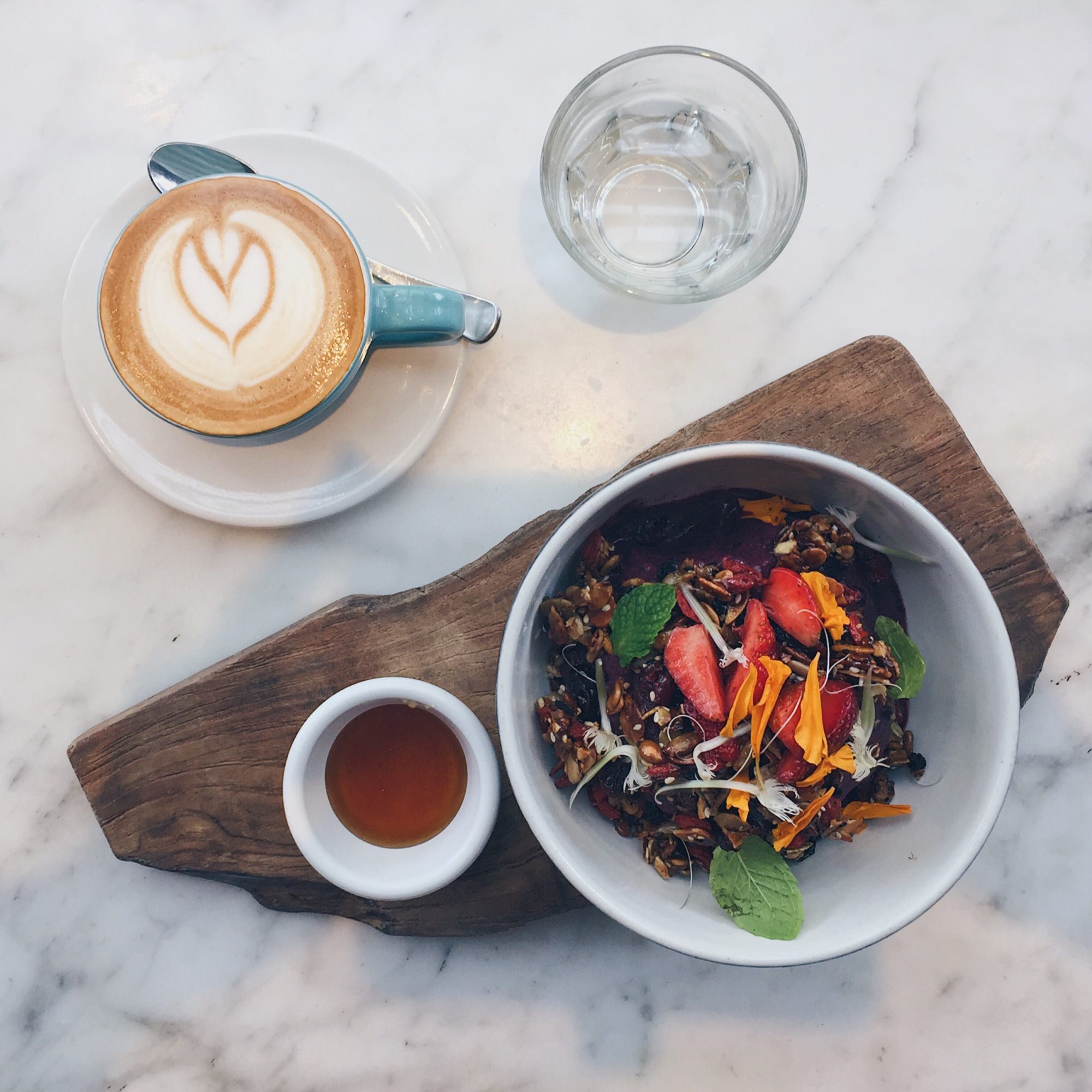 No trip to Bali would be complete without an acai bowl. Sisterfields' acai bowl is flavorful and refreshing, a perfect way to start your day, or fuel your afternoon outing. There's a layer of fresh strawberries, banana, and blueberries underneath the acai mixture as well. The granola provides a texturally necessary crunch, and the flower petals delicately wrap up the bowl (although I didn't see these types of flowers growing anywhere).
If you sit at the white marble counter, the wide windows let in a lot of natural sunlight, making it perfect for snapping pics. Head there early in the morning to avoid the rush and make use of the best lighting.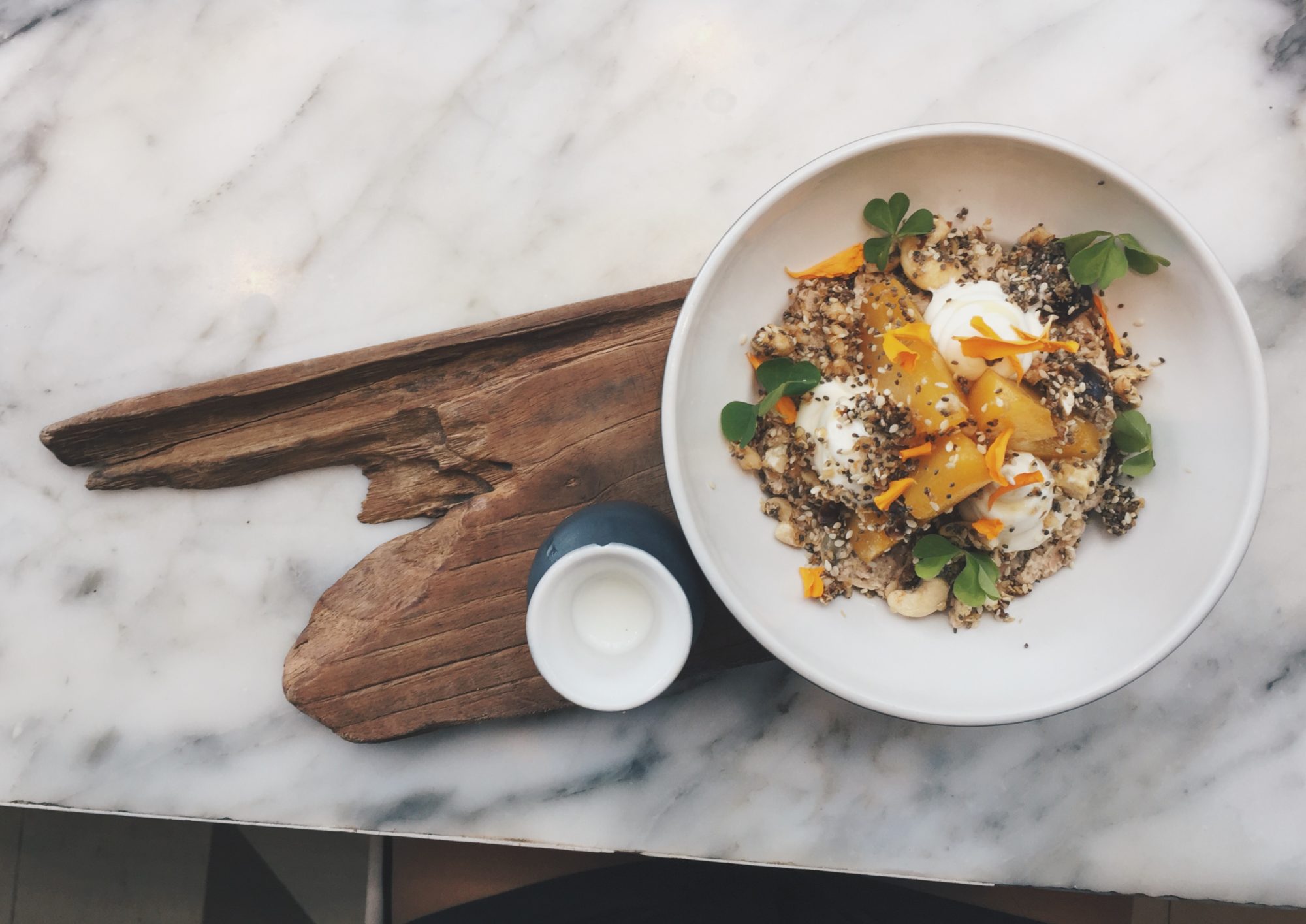 A slightly more filling option than the acai bowl, the bircher muesli is another solid breakfast option. The date and chia seed mixture is more of a cold porridge than granola. It's super satisfying, similar to overnight oats. I couldn't pick up the 'saffron poached' notes of the pear, but mix a bite of the fruit with the yoghurt and crunchy cashews, and you've got an awesome spoonful. The bircher muesli comes with a jar of milk on the side, add as desired.
If you enjoy savory meals, Sisterfields has plenty of that, too. Their menu includes egg dishes, burgers, salads, pastas, tacos… it really has something for everyone.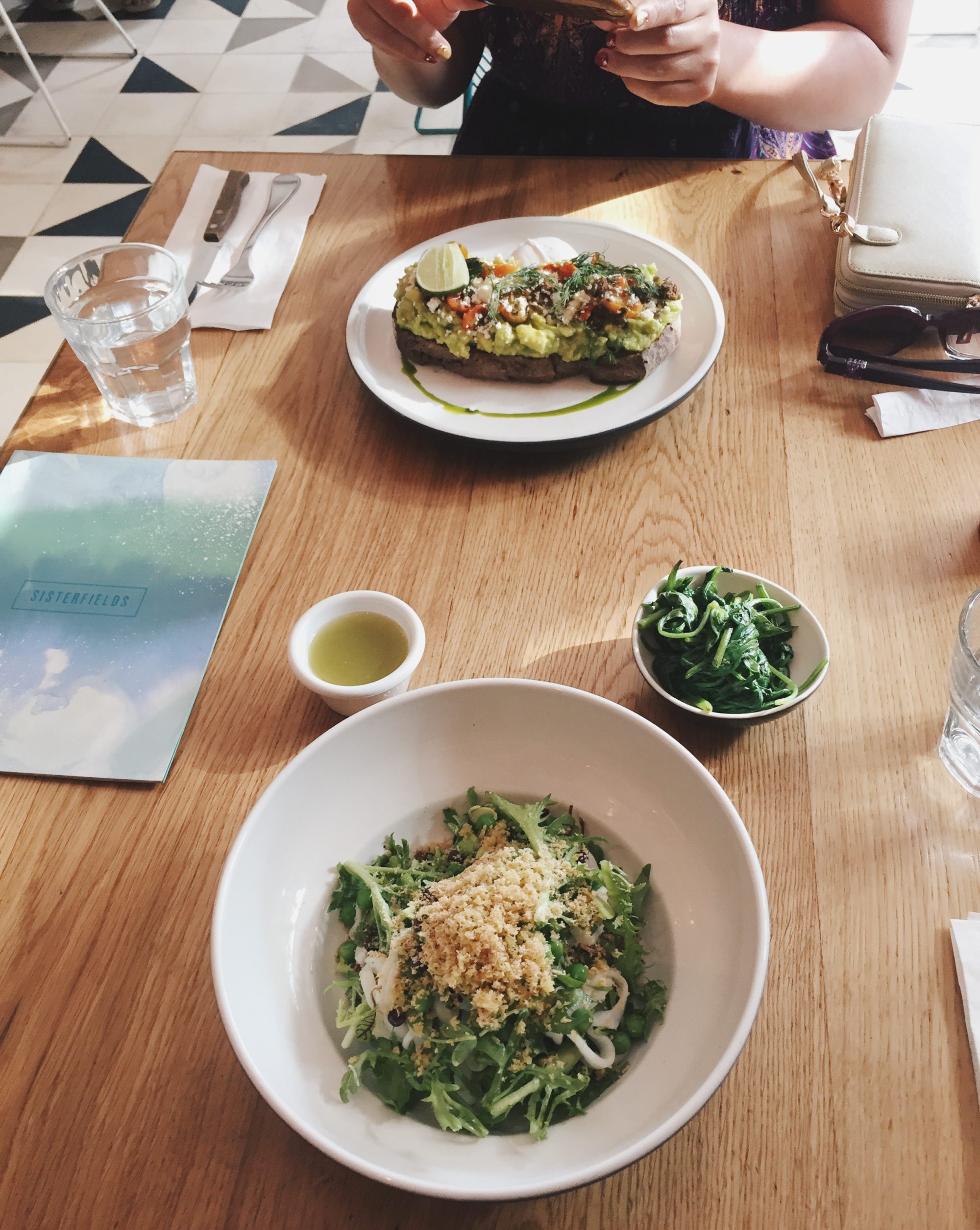 The light wooden tables make a great photo backdrop as well. The smashed avo on toast is surprisingly filling. It is a thick slice (seriously, like more than an inch) of whole grain toast, and they don't skimp on the avocado. Though, it could have used a touch more feta cheese. The squid salad was light. Lots of fresh greens, and the crumble on top adds a crisp element. The squid is not too firm, and the beans make you feel hella-healthy. Dressing on the side, of course.
Sisterfields has an impressive list of smoothies, juices, and alcoholic beverages as well.
I know I said that this list was in no particular order, but in my eyes, Sisterfields without a doubt takes first place. Make sure to stop here if you have the chance.
Aptly named, corner house is located on the corner of two major streets in Seminyak (Jalan something-or-other and Jalan another-something-or-other). It has a stylish interior, with quirky furniture and mismatched art decorations. It has a beautiful patio that is well-shaded if you prefer to eat outside.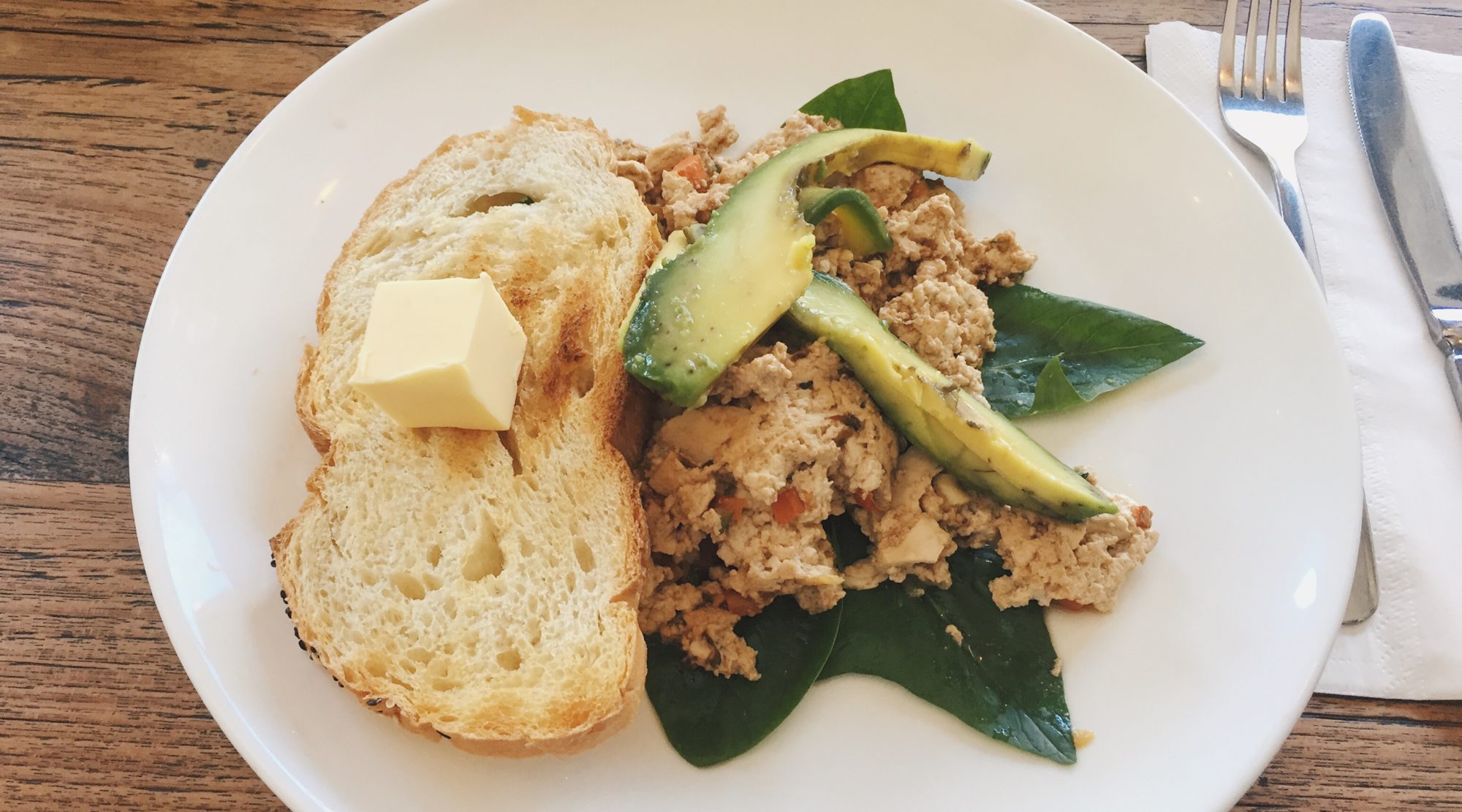 Corner House has a 'specials' menu that seems to rotate quite often. This tofu scramble (can also include eggs but I opted for without) is savory. The Balinese spices are aromatic, and the avocado adds an extra layer of decadence, which balances the light tofu. The freshly toasted sourdough is a great base for the scramble.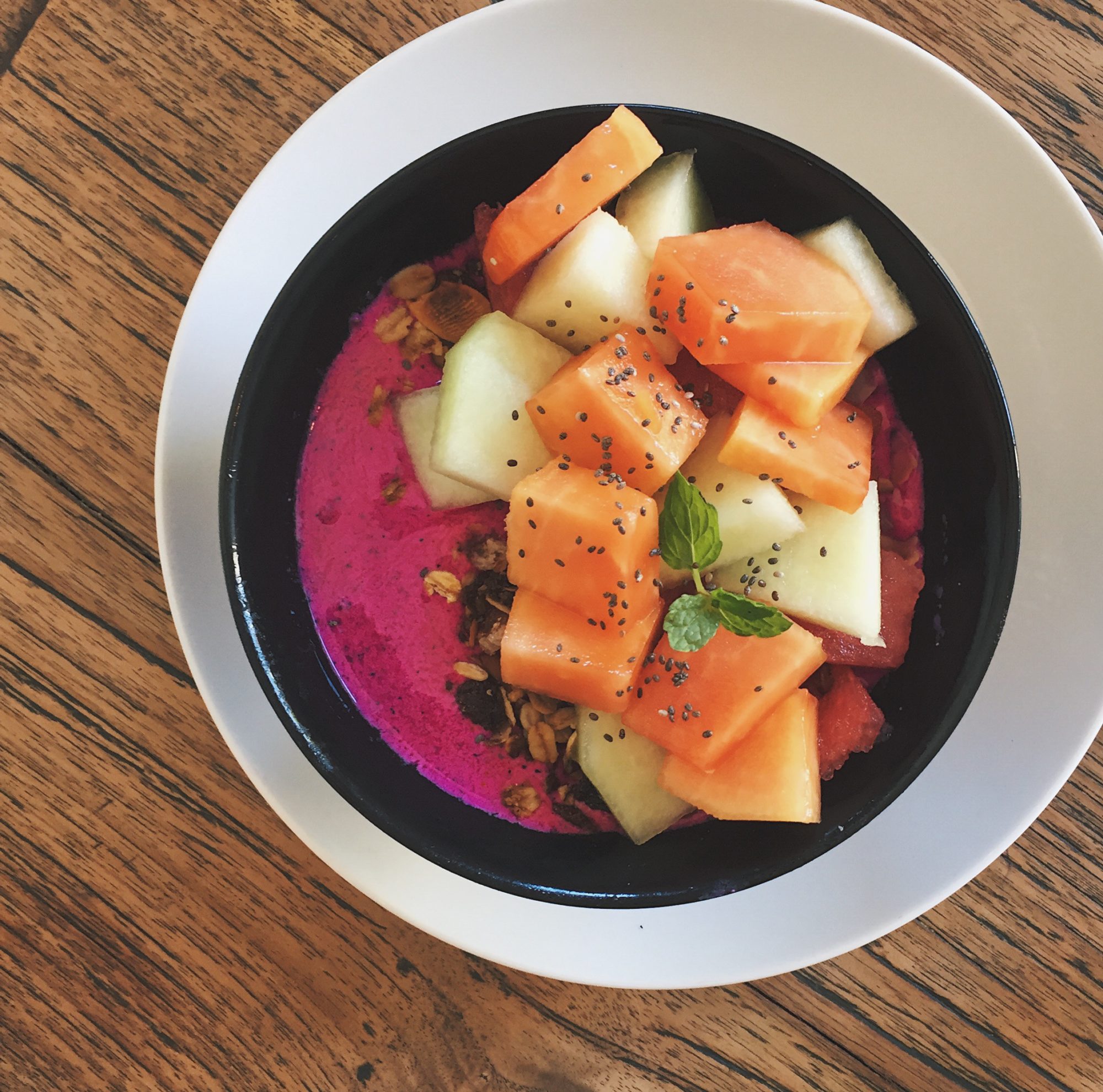 This smoothie bowl was on the specials menu for breakfast. It was my friend's meal so I only had a bite. The dish was vibrant and beautiful, but it was too sweet for my taste. Dragon fruit doesn't naturally have much flavor, and the only dragon fruit i could find in the dish was the color of the base. Sure it was tasty, but the sweetness was overpowering, I was done after the single bite.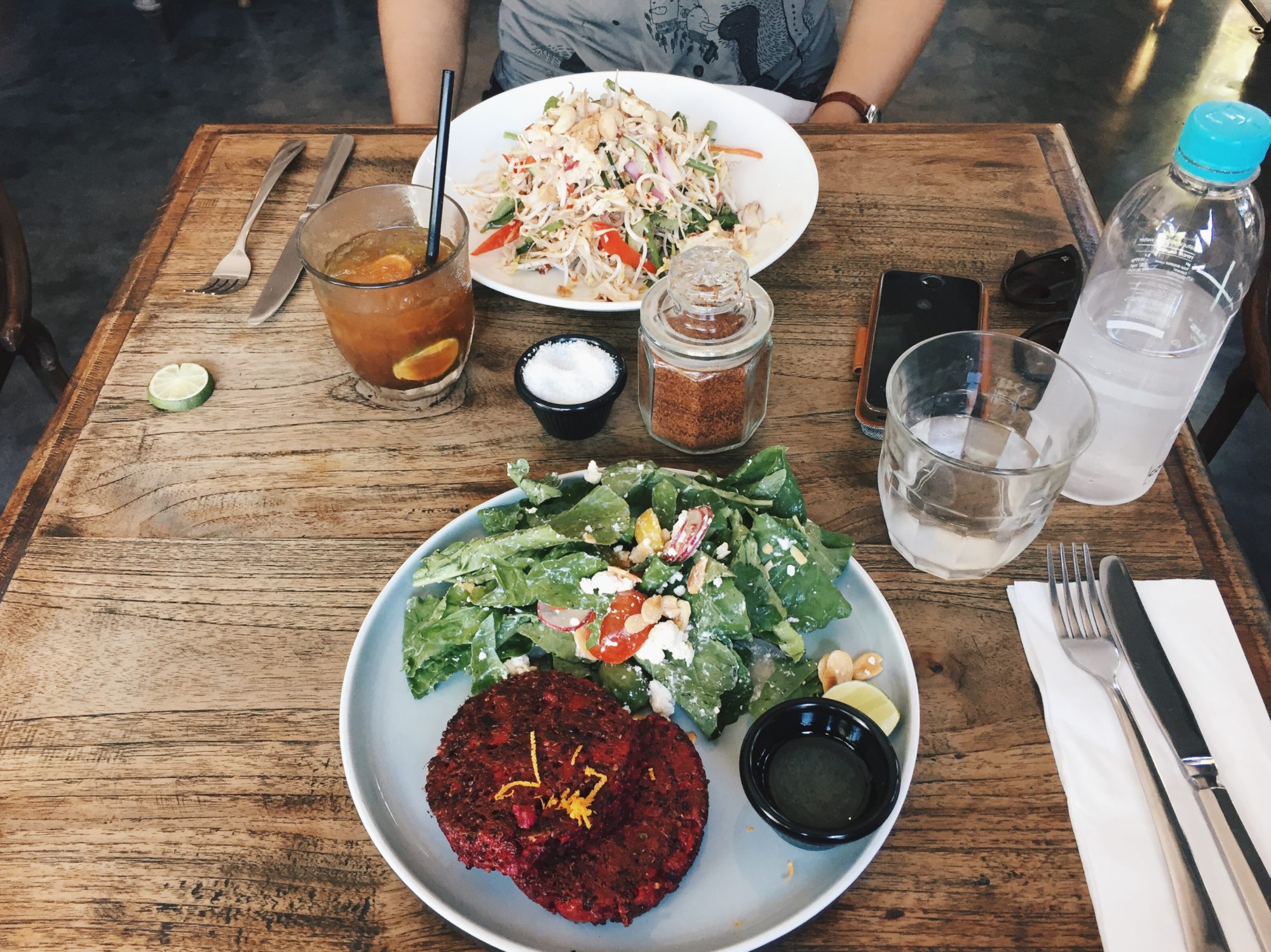 "What's a rissole?" and this colorful dish appeared before me, ready to be devoured. The thai chicken salad was tasty, although my lunch-mate remarked: "I feel like it takes more energy to actually eat this salad than the food will give me." Funny, but probably true. It's a giant salad that consists almost entirely of sprouts and small pieces of other vegetables. My chia-beetroot-patty thing was delicious, although I was still a bit hungry after cleaning the plate.
Corner house is well-located, and has a big menu. The separate breakfast, lunch, and dinner menus keeps things interesting. I'd recommend stopping in, even just to have a cup of their coffee. Proudly serving Revolver Espresso, which brings us to the next cafe…
Slightly hidden in an alley off a main street in Seminyak, Revolver Espresso looks unassuming from the outside. Nailed onto two, thin double doors, is the word 'REVOLVER.'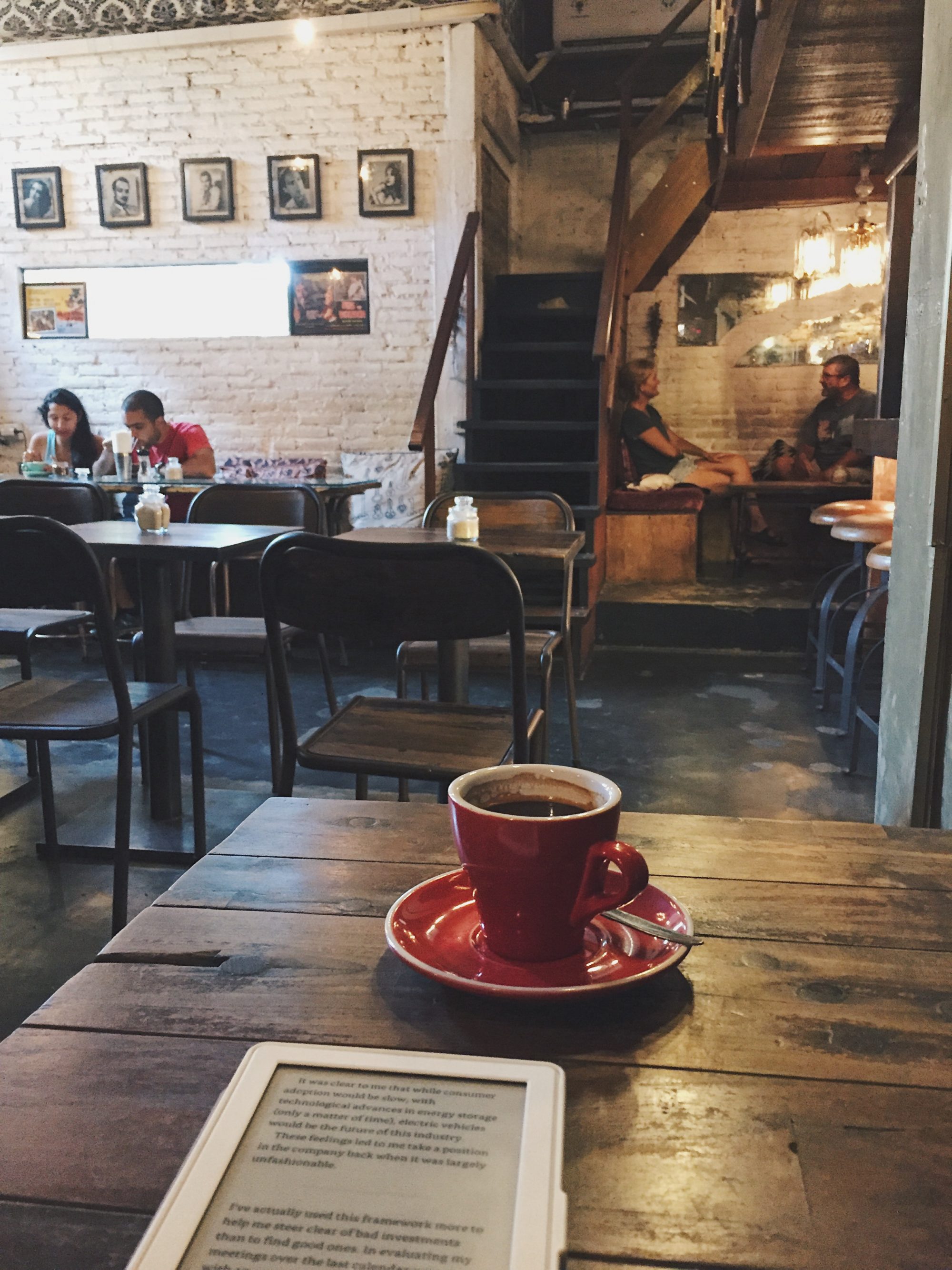 Enter the establishment and you'll quickly realize the place is not what it seems. The interior is spacious, with a western-garage decor. It's a bit dark, but that adds to the mood. There's a smoking room, and another large room if you walk further into the shop. The baristas and employees are handsome and kind, and learned my face quickly (as I frequented the cafe often during my stay).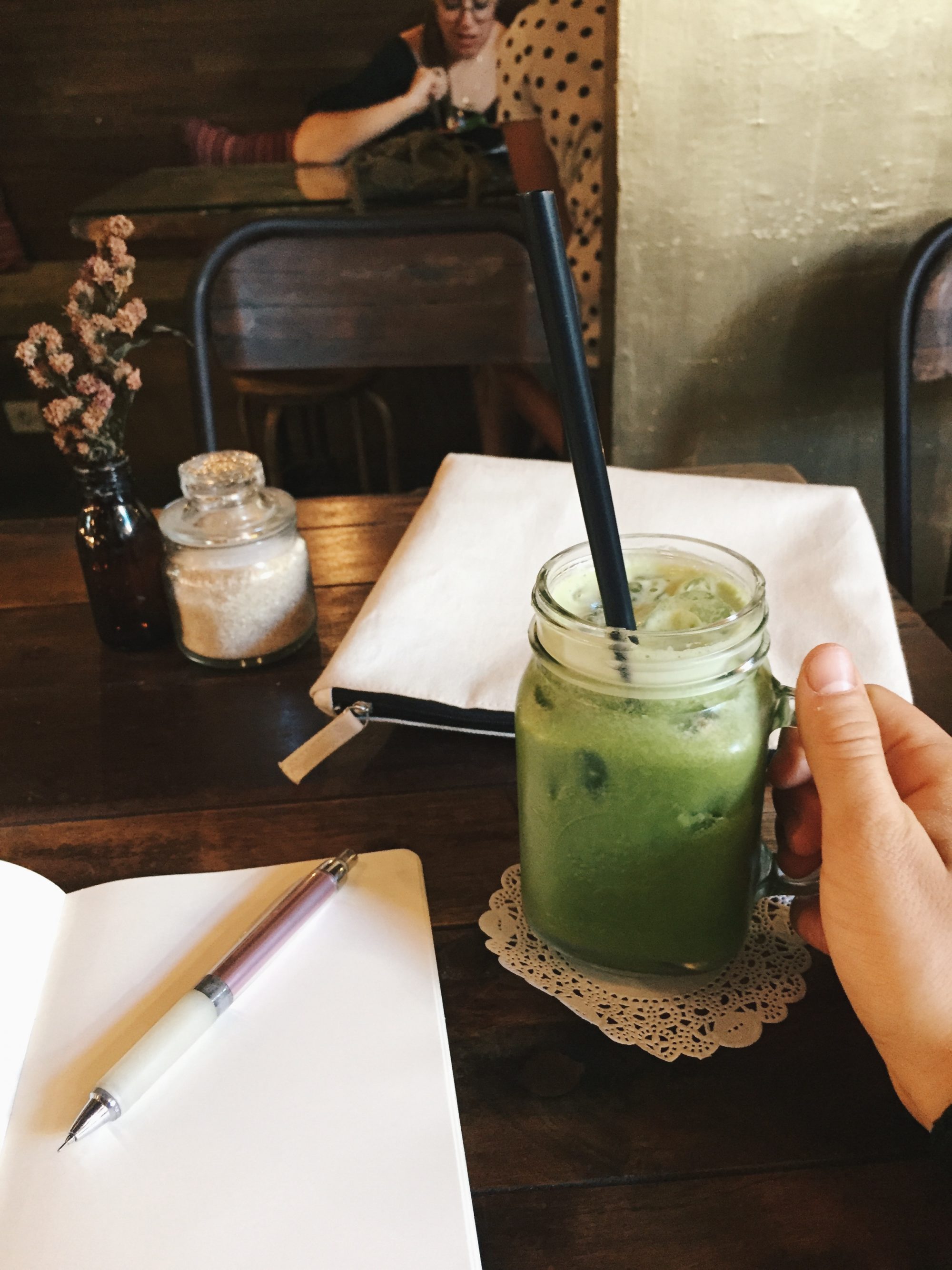 Beyond the tasty food and pastries, Revolver Espresso also has a substantial list of fresh juices and smoothies. Stop in to grab a refreshing beverage when the bali humidity becomes too much to handle. It's also a great cafe to sit with a book or notebook for creative work, though it can get busy, so try to avoid the rush if you're planning on staying awhile.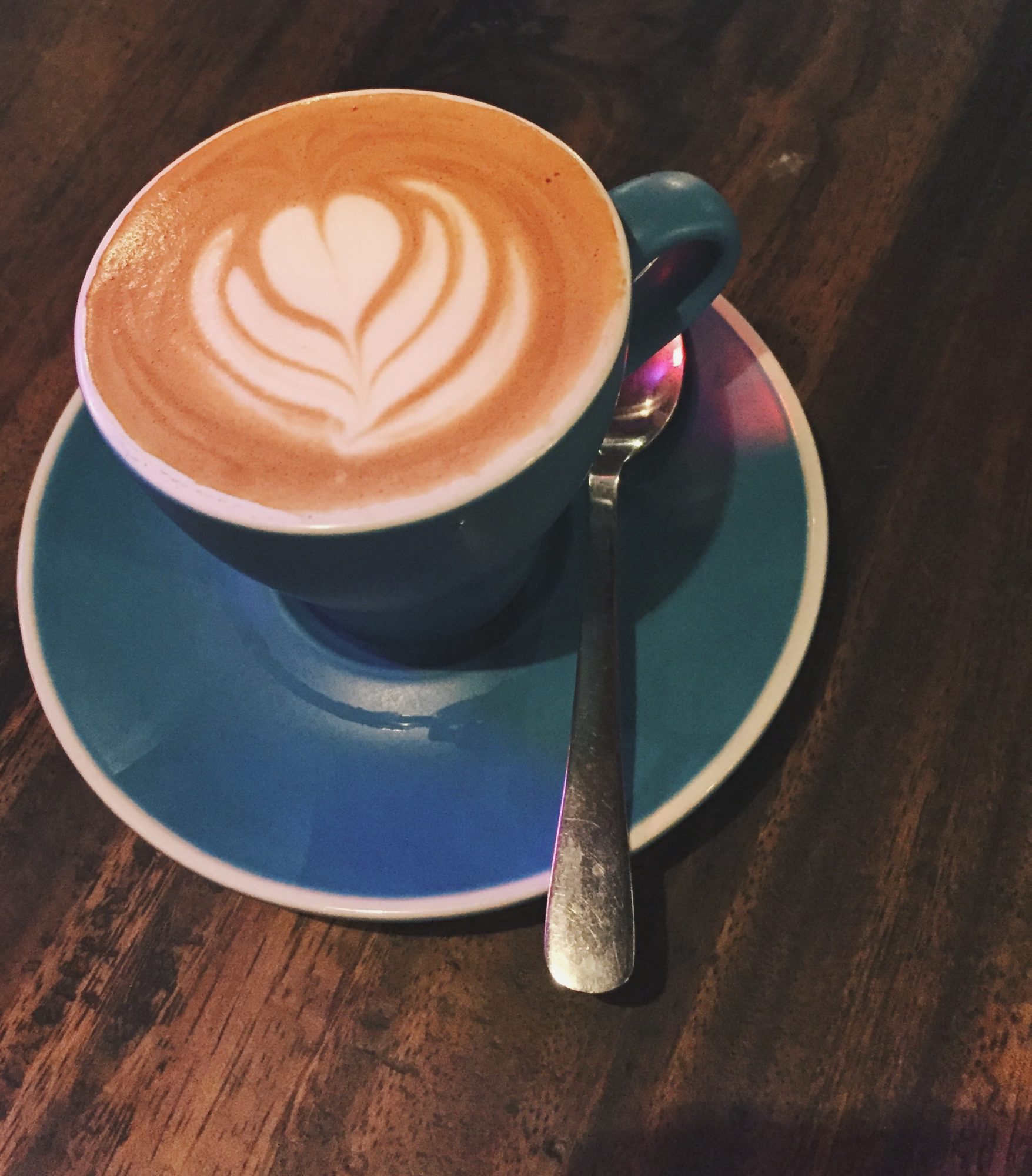 As the name so subtly alludes to, the coffee at Revolver Espresso is the superstar. Rich and creamy in a flat white or luscious capp, bold and smooth if you go black. Many cafes in the area proudly serve Revolver Espresso, and you'll see why after the first sip.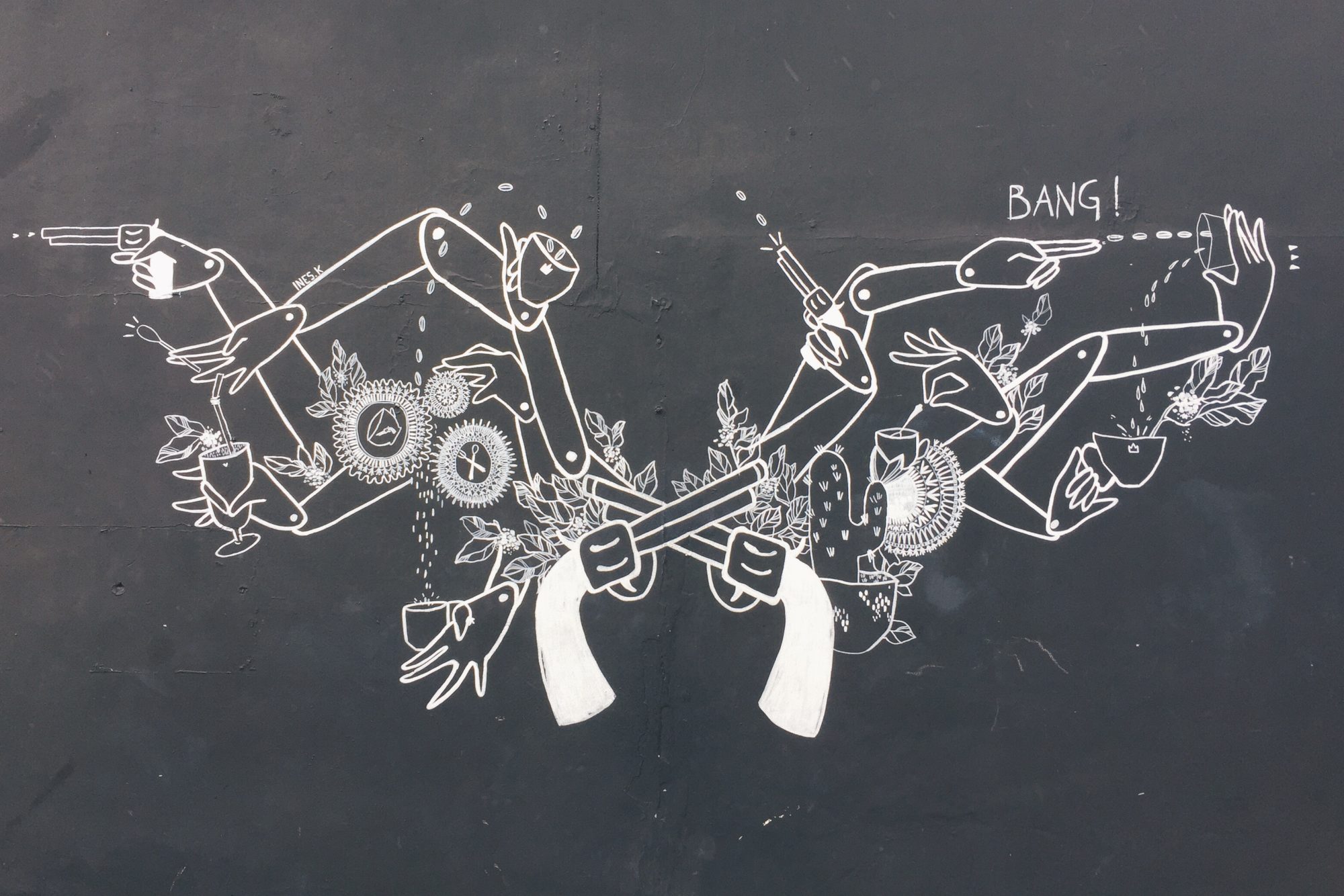 Before you leave, make sure to grab a Revolver T-shirt or bag of beans for the road. Take a left out the doors and find this mural. You may find a few pairs of these artistic 'wings' around town. In Australia, these were all over, and I enjoyed finding them and standing in the middle, letting the 'wings' spread out for a photo. Many of these cafes are Australian-owned, so it's easy to make the connection.
The first time I found myself at Grocer & Grind was because Sisterfields had a line out the door. Located just up the street, I'm surprised that G&G isn't more popular than it already is.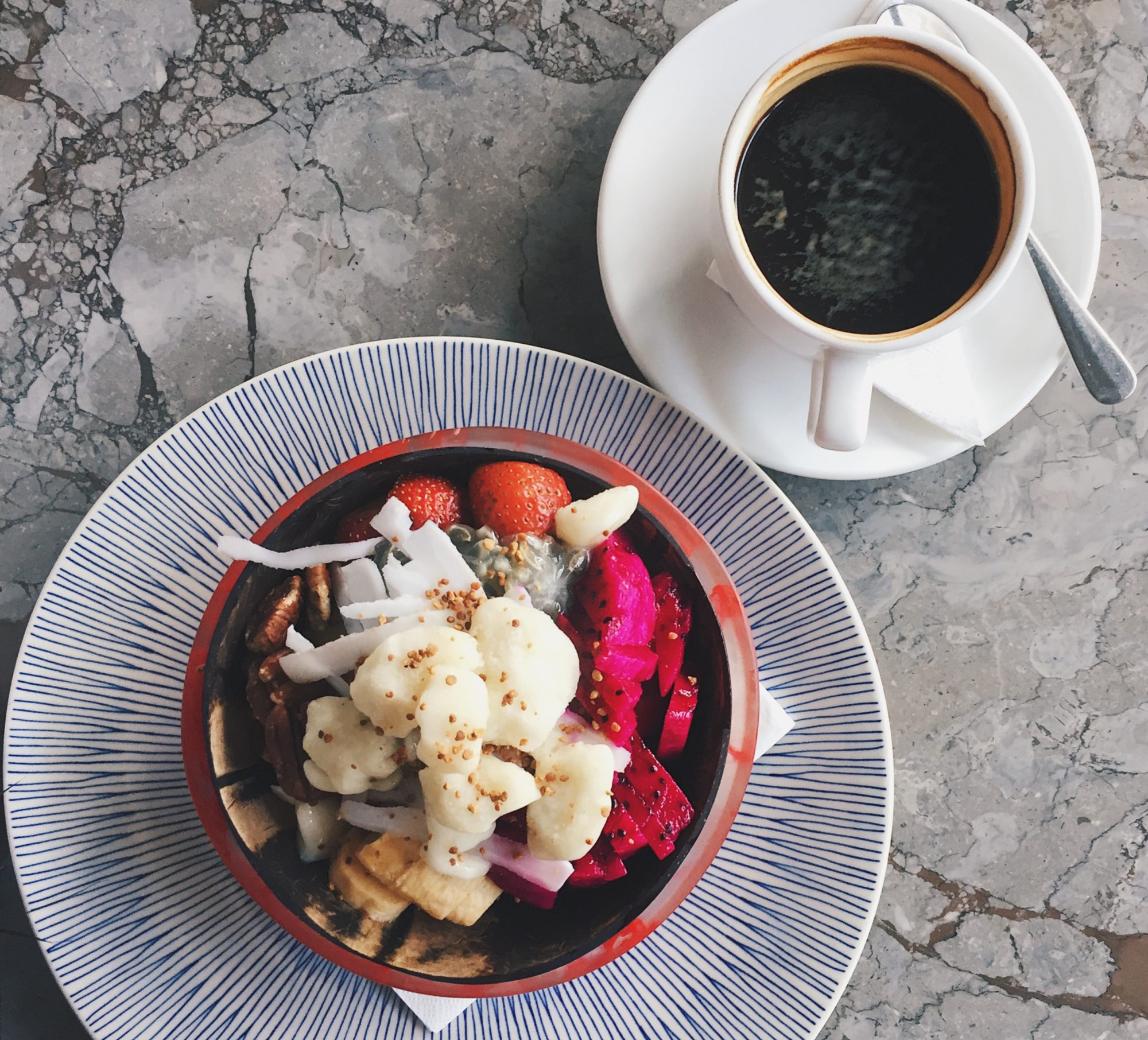 Served in a half-coconut shell, this bowl came with a touch of magic to start off my day. Even in the early morning, the Bali humidity was unwavering. The lime sorbet topping this dish was steaming in the heat, parallelling the piping hot long black coffee. It's amazing how two polar opposites can visually react in the same way (despite being two different chemical reactions). Layered generously with fresh fruit, coconut strips and pecans, I couldn't wait to come back for more…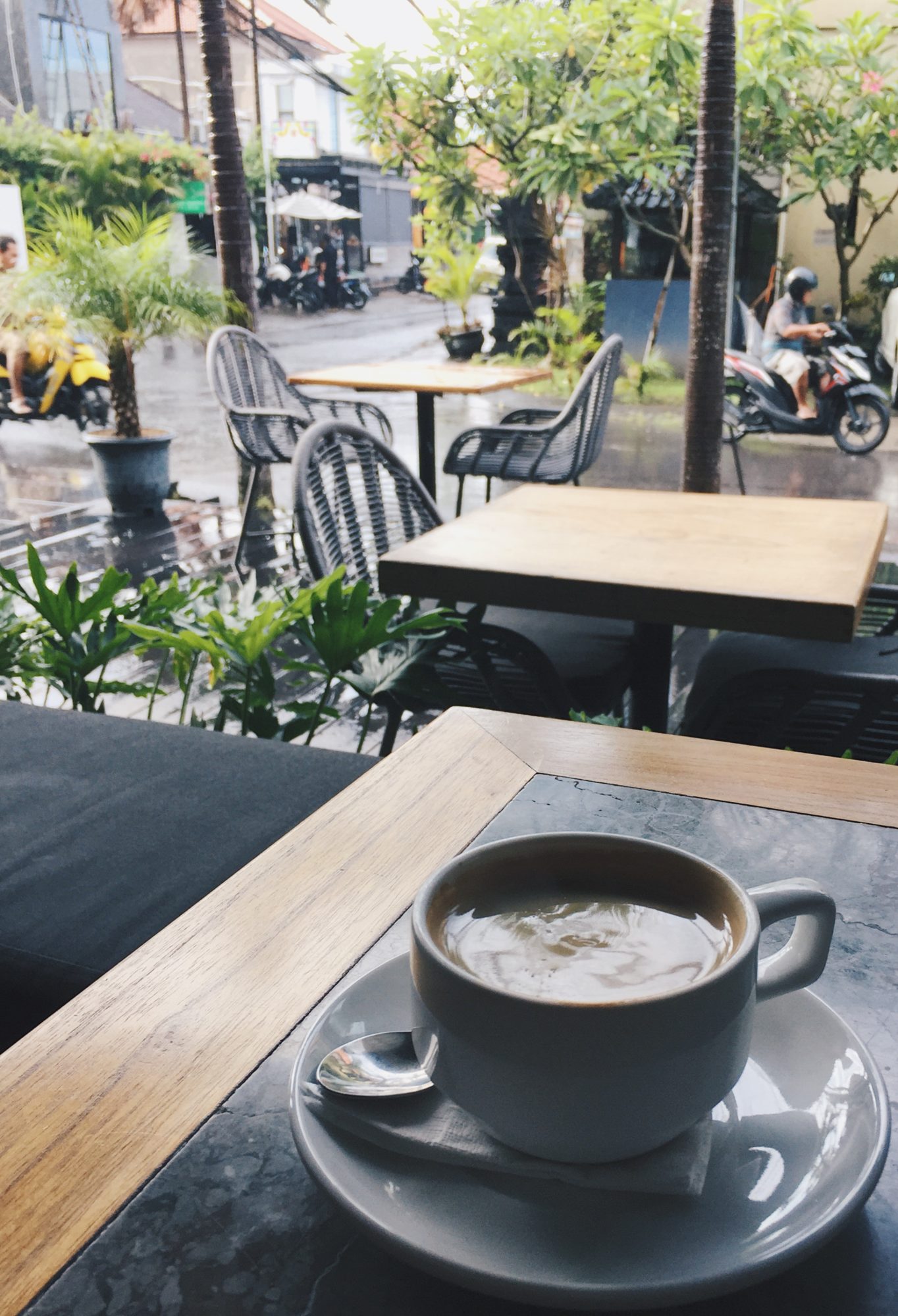 … and I did. January is part of the rainy season in Bali. There's plenty of sunlight during the day, but occasionally it would rain in the morning or early afternoon. G&G has a great open seating space, windows open so you can sit quietly, watching the drizzle. Among the honking taxis and pushy motorists, this cafe provides a much-needed moment of calm (if you get up early enough).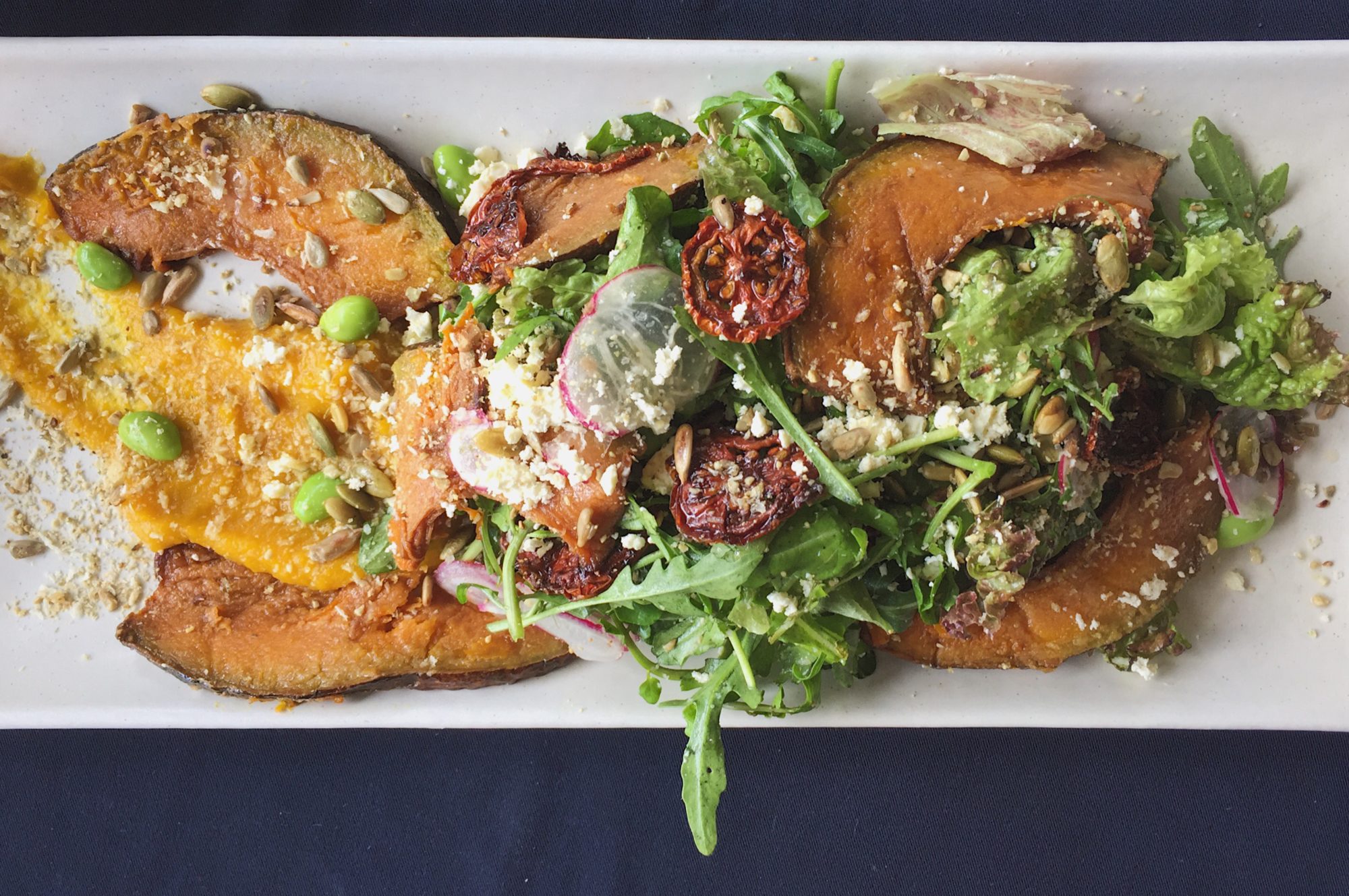 Stop in for lunch for a fresh salads, sandwiches, and more. The menus continued to surprise me in Bali. The 'roast pumpkin' salad seemed to be on many cafe's menus around the area, but G&G's was my favorite. You can tell by the colors of the ingredients, that the vegetables are fresh, and the presentation is pleasing to the eyes as well.
Last but not least on this top 5 list is Shelter Cafe. Located the furthest from the other cafe's, Shelter has teamed up with Nalu Bowls to become a double threat. Whichever cafe's menu you order from (you can order from Nalu Bowls and dine upstairs at Shelter – bring a friend and order from both establishments) you are guaranteed to be satisfied.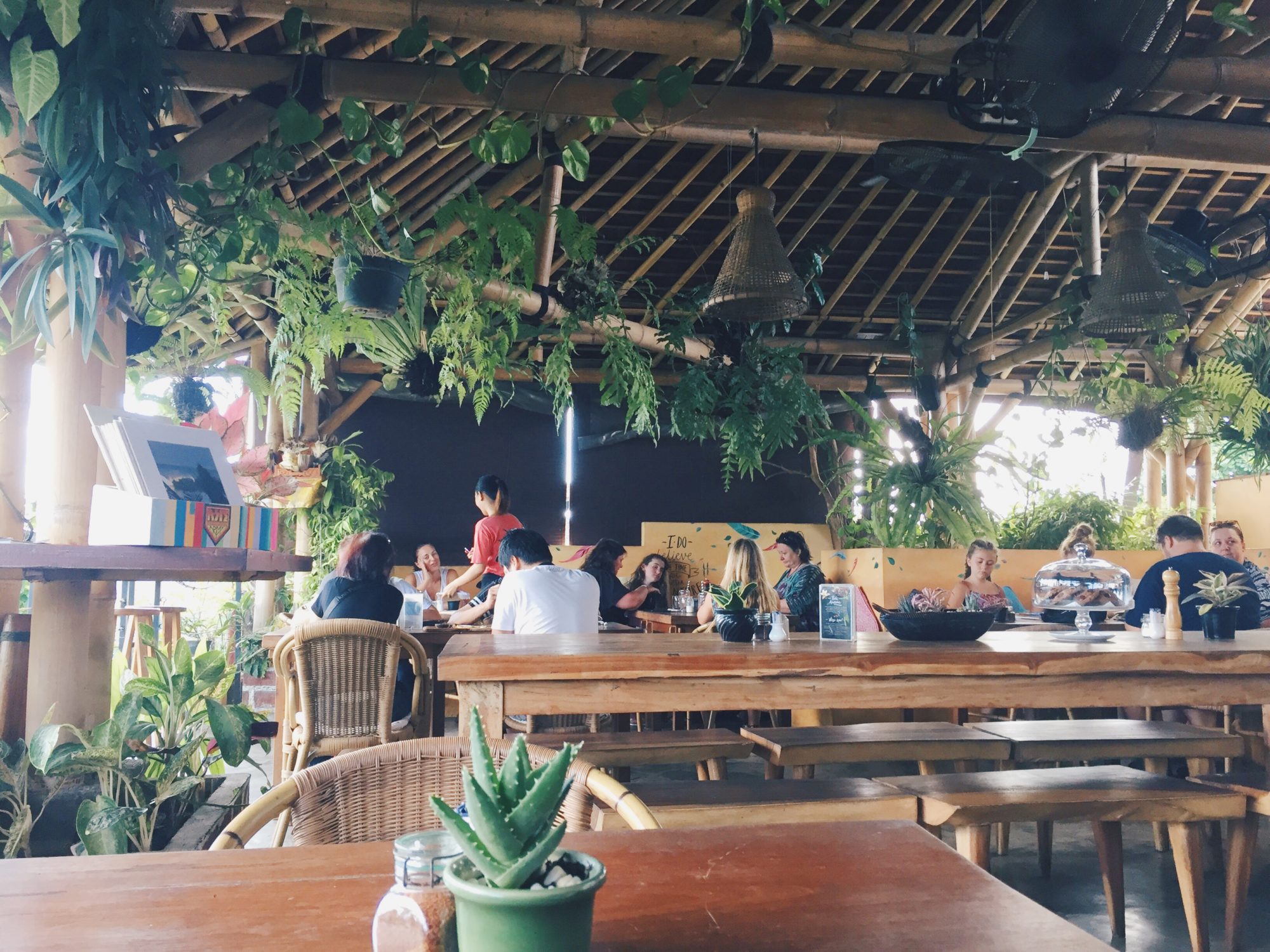 Enter the treehouse. Long tables to promote mingling among strangers, open air, and plenty of greens that adds to the ambiance. I met many lovely people there, and it seems to be a hot spot for busy-bees to bring their laptops and set-up shop. There's no air-conditioning at this cafe (that I could feel), so make sure to arrive earlier in the day if you're weak to the heat.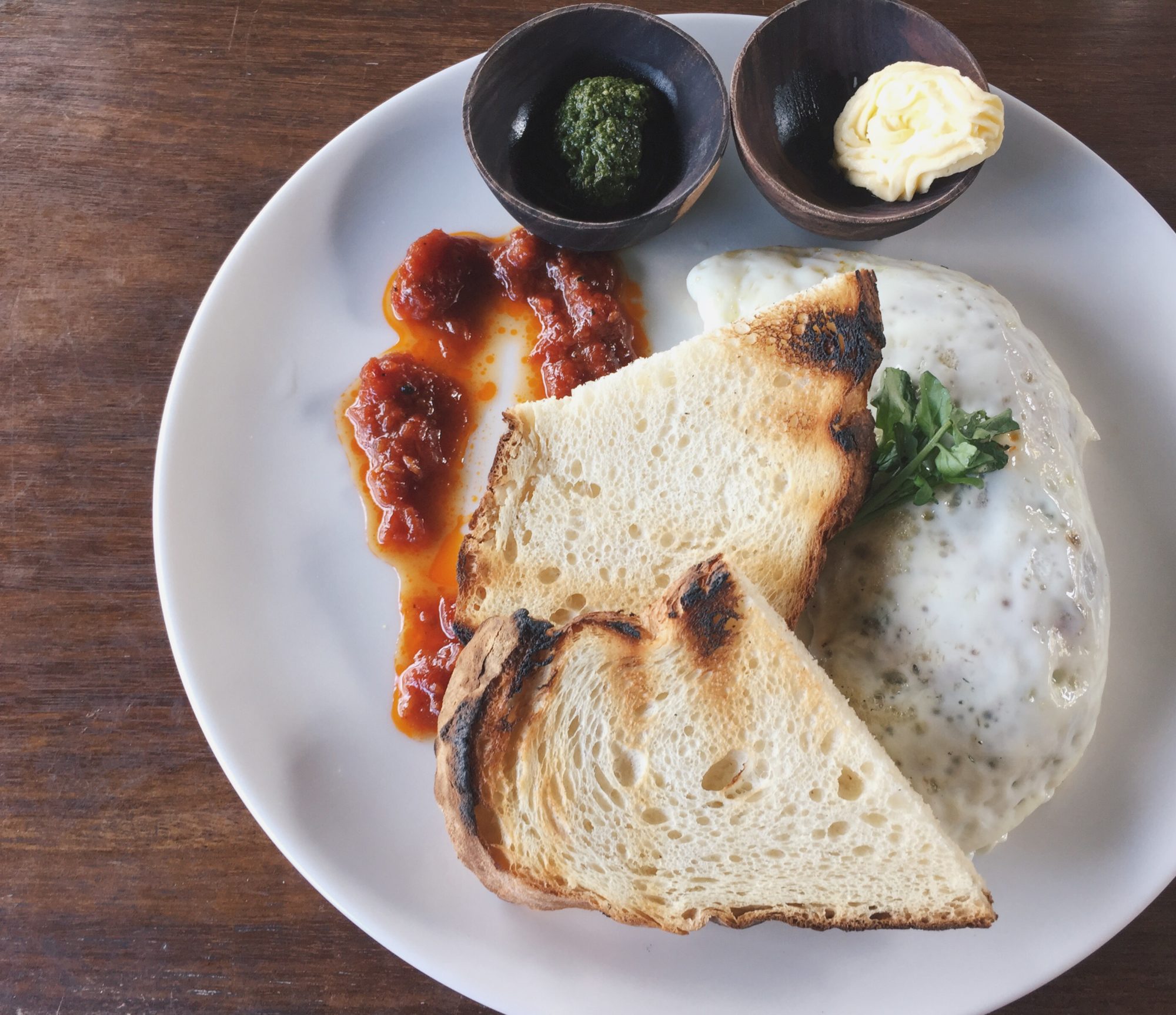 On shelter's menu, you'll find plenty of gluten-free options, and a fun 'build-your-own' breakfast choice. Out of every egg dish breakfast I had in Seminyak, this egg white omelet was my favorite. Packed with vegetables, the sauces added new layers of flavor, and not to mention color, to the already-healthy omelet. Also, the bread was perfectly toasted (it's incredible how such a simple thing isn't always executed well).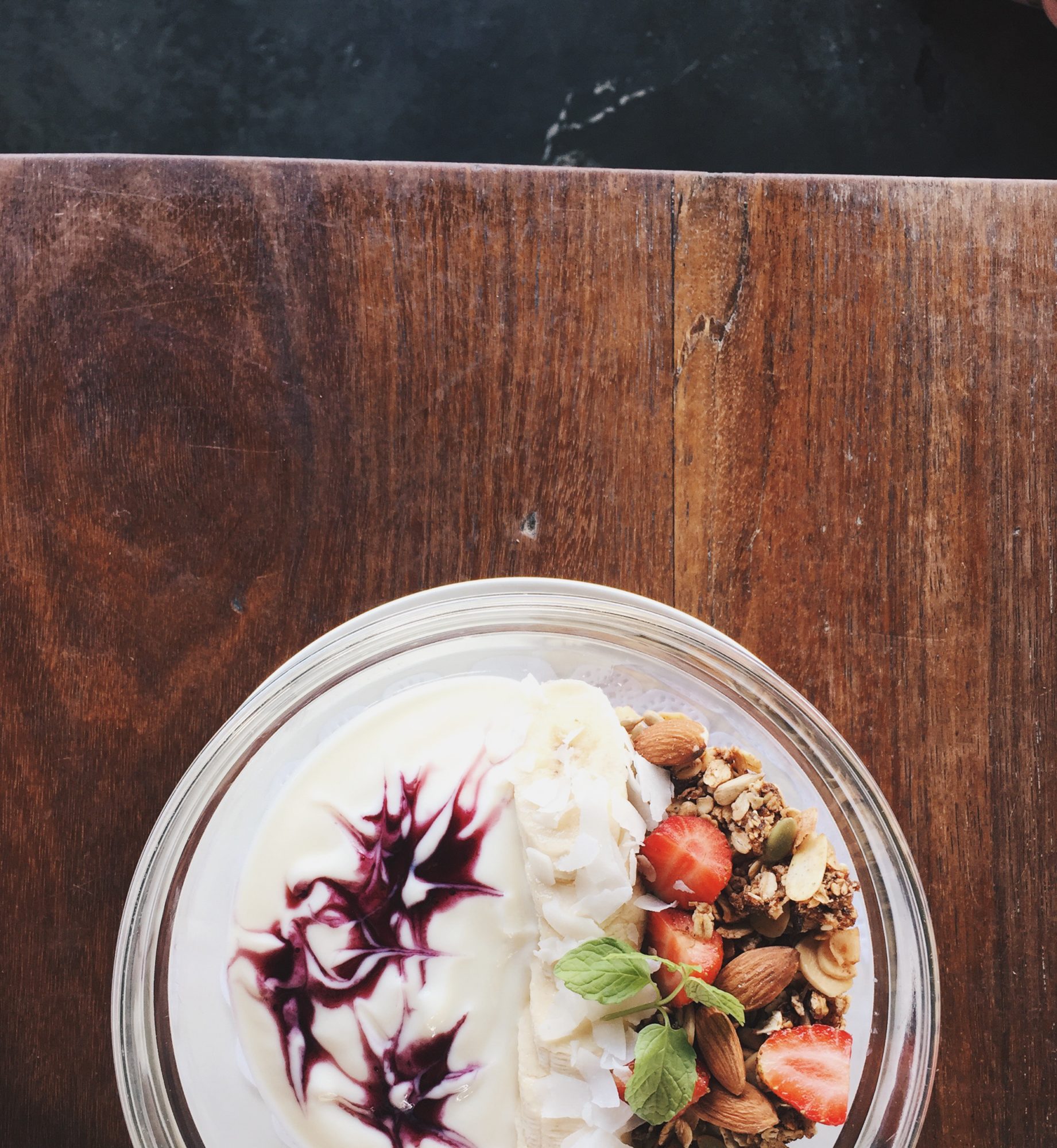 Craving something sweet? Shelter has you covered. Yogurt, granola, chia seed pudding, pancakes… then you start looking at the Nalu Bowls menu… how will you ever eat your way through it all?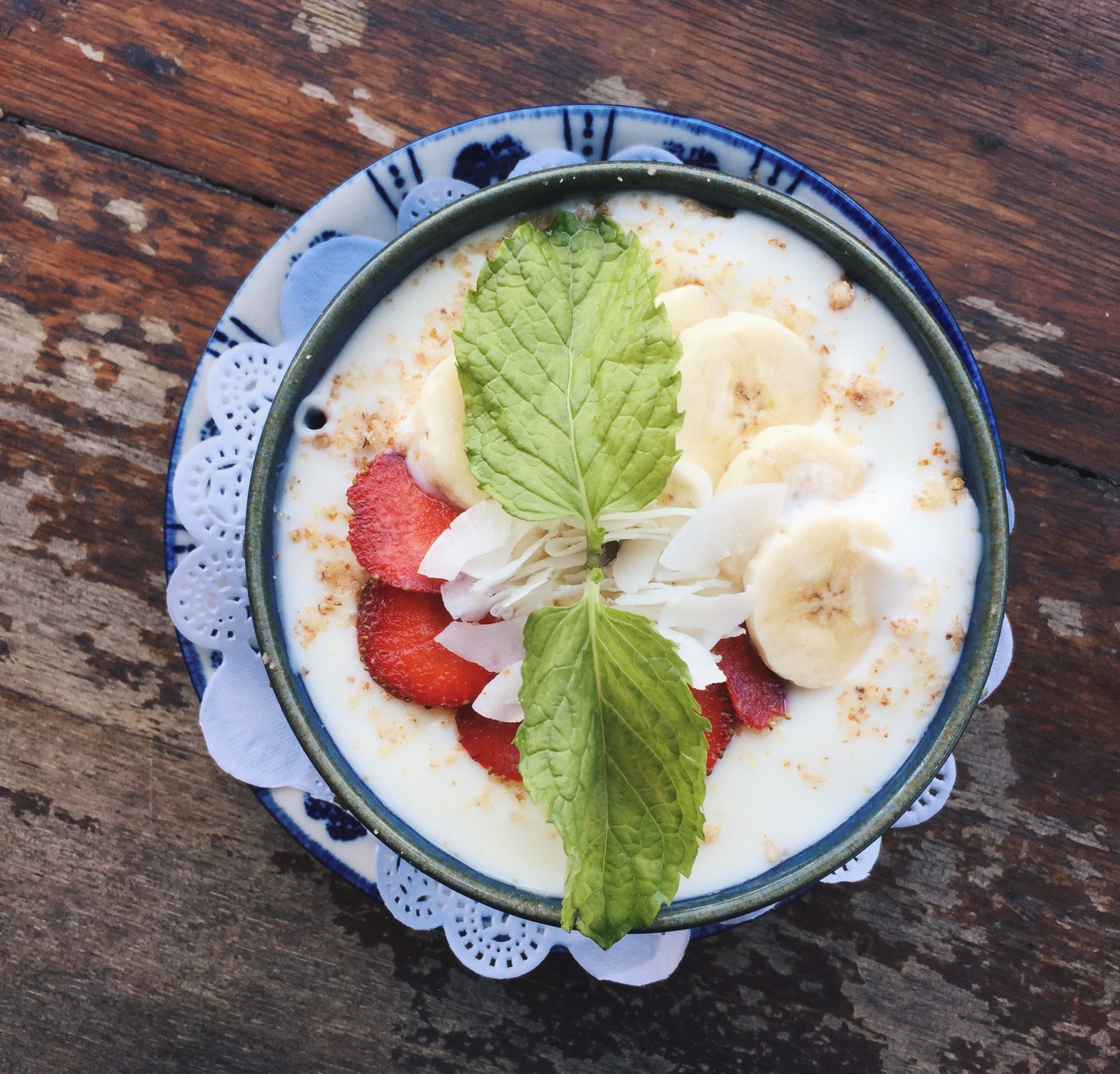 This dish comes in a small pot, complete with a small spoon. Take your time to make sure you pick up the various ingredients and textures in this bowl before it's all gone. Coming from Japan, where fresh fruits and vegetables were expensive and somewhat hard to come by, it was a real treat to have such plentiful fresh produce.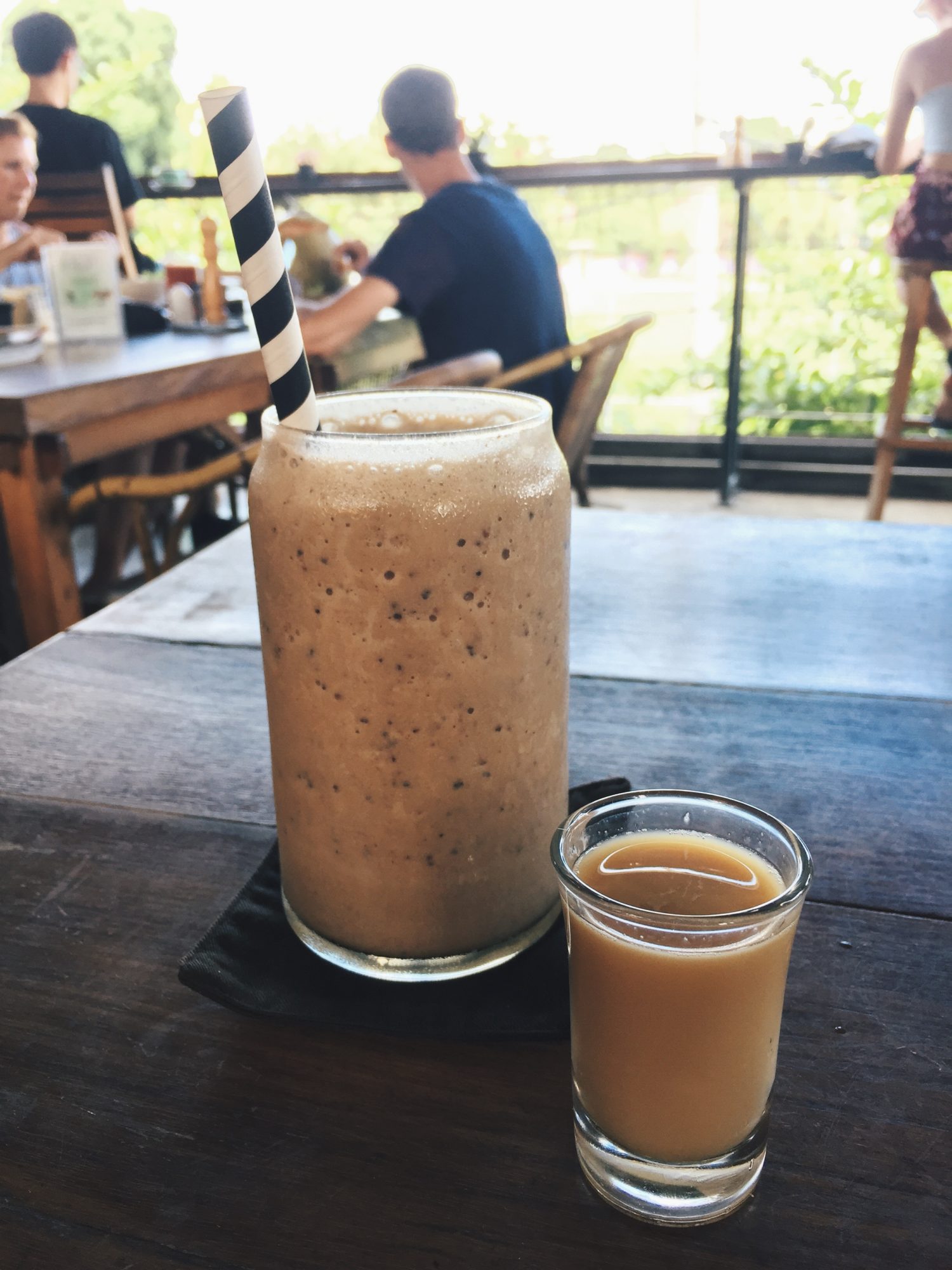 Even if you're not hungry, stop by Shelter to taste one of their decadent smoothies, fresh juices, and rich coffees. If you're one of those health nuts – try out an 'inner health shot.' Who knows if it's just the placebo effect or some brilliant marketing plan, but those health shots are gaining momentum. I tried the ginger shot, and boy, did that have a kick. Spicy.
The 5 Best Cafes In Seminyak, Bali:
Sisterfields
Corner House
Revolver Espresso
Grocer & Grind
Shelter Cafe
It wasn't easy to make a 'top 5' list of all of the wonderful cafes (just in Seminyak, too!). There were many more that stood out, and it would be a shame not to mention them.
Honorable Mentions:
6. Earth Cafe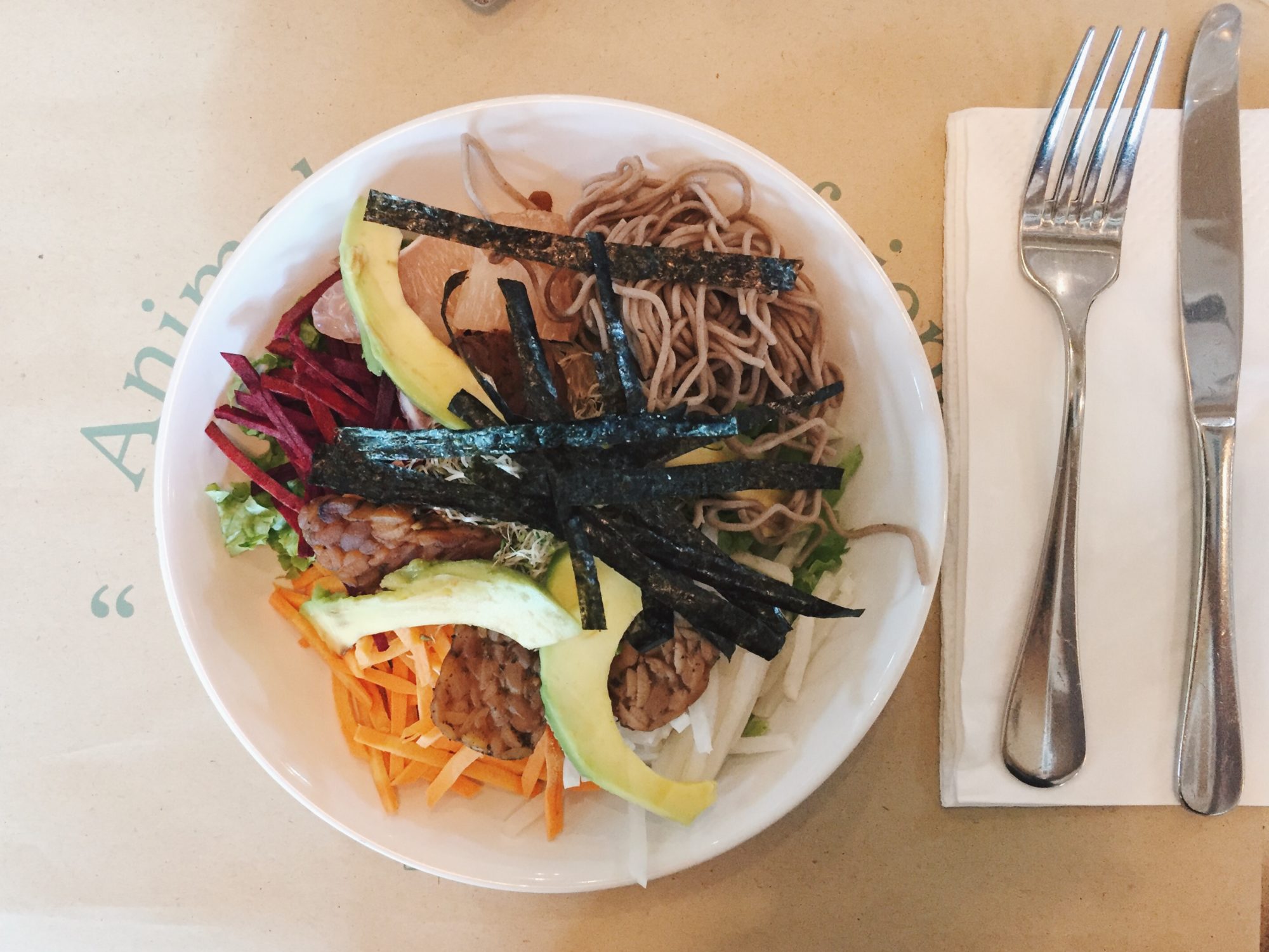 Vegetarian, vegan, gluten free, macrobiotic, organic, whatever your dietary issue is, Earth Cafe's wide variety of menu items is sure to fulfill your health-obsessed fantasies. Everything I had there was delicious. I recommend the Mediterranean Platter [89k]
7. Sea Circus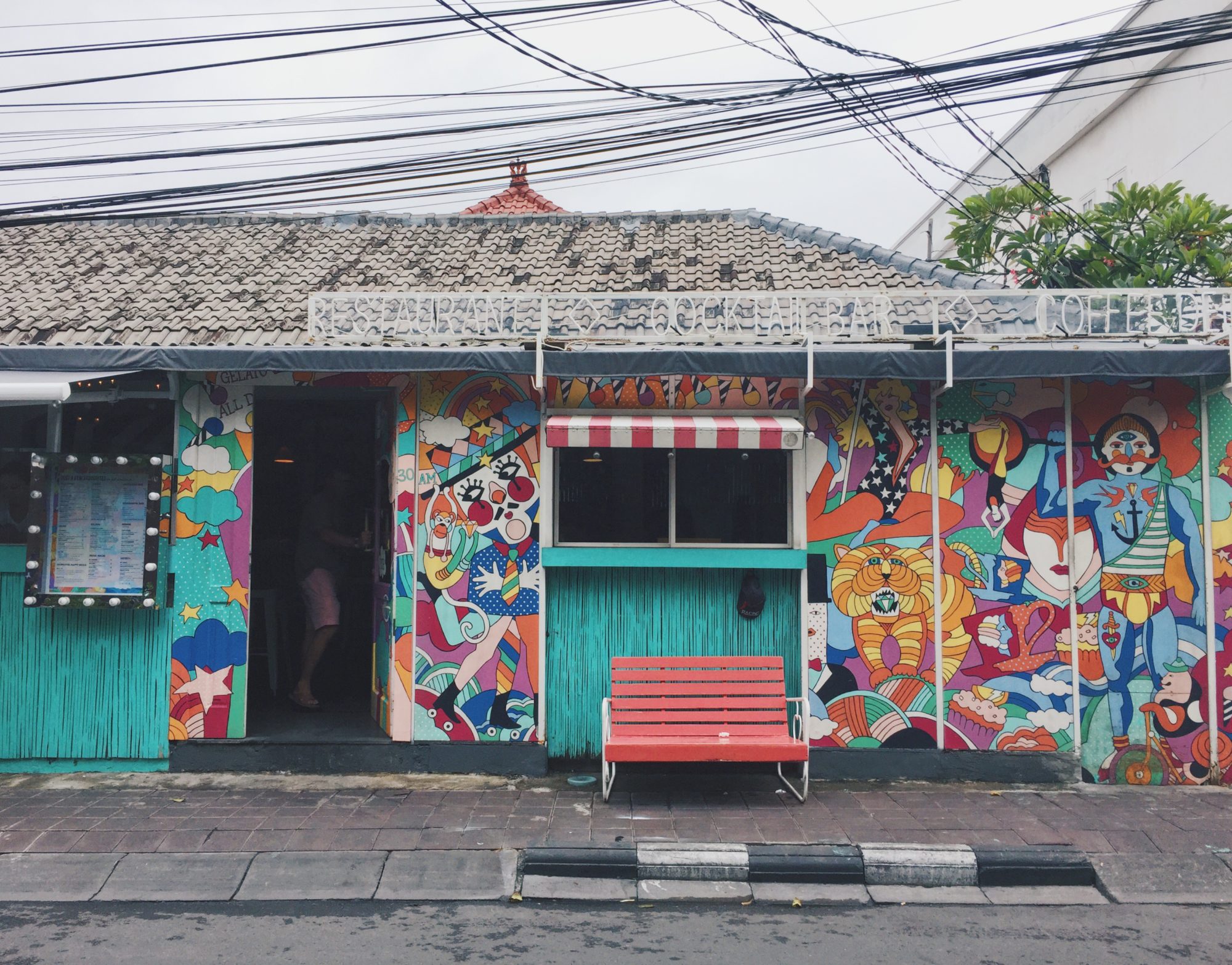 Colorful. The menu is similar to what you'll find at the other cafes, but depending on where you're staying, Sea Circus may be the closer option. Check it out, even just to see the fun artwork and quirky interior.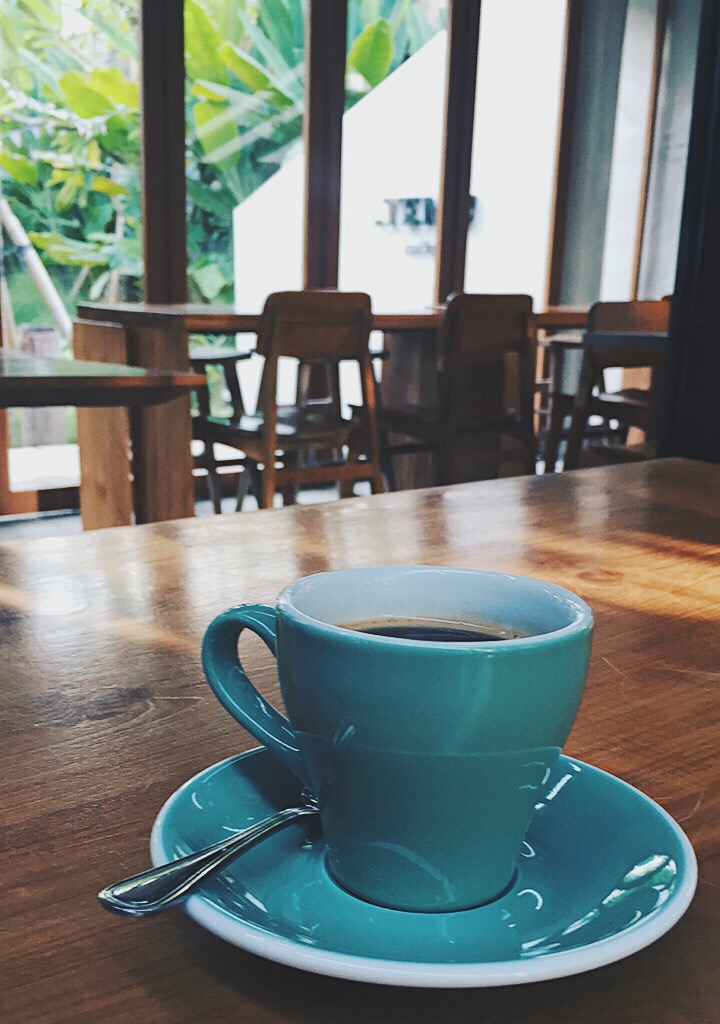 This one is hidden. From the busy, main street (Sisterfields is located on) across from Seminyak Village, you'll walk between buildings into a peaceful back area. There's a thai restaurant and a small shop back here as well. Temu has a fun second floor seating area, as well as a small-but-well-designed lower level.
The espresso is great, I just wish I could've stopped by to try their breakfast.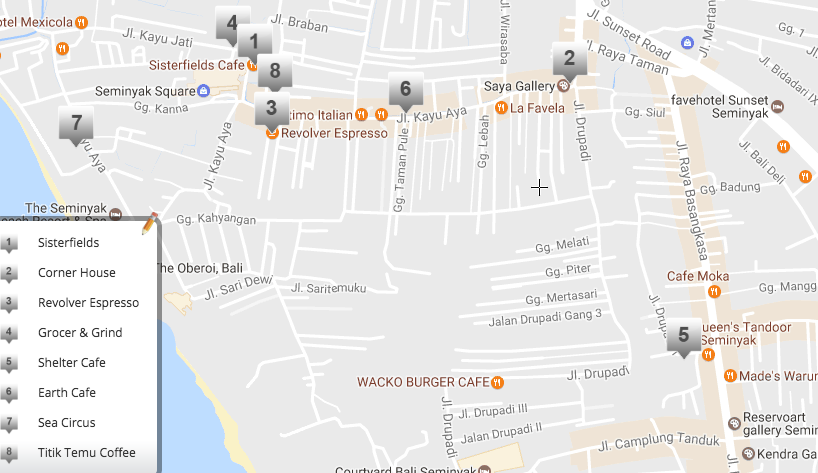 I really could go on and on about the coffee, food, and cafe scene of Seminyak, but this post is long enough as it is.
One of my favorite things is to discover the best restaurants and coffee shops of a new city. Luckily, my job allows me to do that 10x over. I find myself, yet again, in another new city. I can't wait to see what Fukuoka has in store.
If you've visited any of these cafes, hope to in the future, or know somebody headed for a Bali vacation, share this list with them so that they can enjoy all the best espresso that Seminyak has to offer.
Make sure to follow me on Instagram and Twitter for more-real-time updates on what I'm up to.