Peet's Coffee, a San Francisco-based coffee company has recently launched a new line of packaged cold brew. There's six main drinks and I've taken the time to taste them all… for the love of coffee!
The following is a completely biased, unscientific study conducted in my dorm room and around campus at Stanford University.
Peet's cold brew is a little different. Apparently it stays cold from when it's brewed to when you grab the bottle – which means no preservatives. Looking at the list of ingredients, it's true. Relatively clean, short lists are a positive sign. The cold brew coffees are based on Peet's East African Baridi Blend, and their brewing process leaves the drinks smooth and bold, without all of the acidity.
Each small bottle is 10.5 oz and fits nicely in the palm of your hand. The packaging is simple and cute, and both black blends are glass-bottled. Boogie. They even have an almond milk option – hooray for dairy free!
In no particular order, on to the reviews:
1. BARIDI BLACK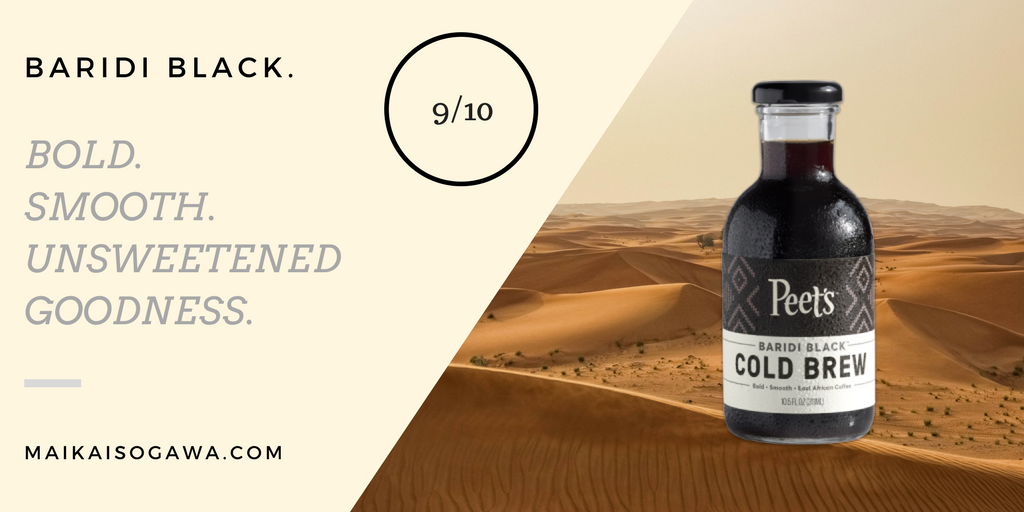 Most of the time, I drink my coffee black. That's why this gets such a high score. It's crisp and cold, the glass jar is nice to drink out of, and it lacks acidity that most black coffee comes with. I'm a big fan of this guy.
2. BARIDI BLACK + CACAO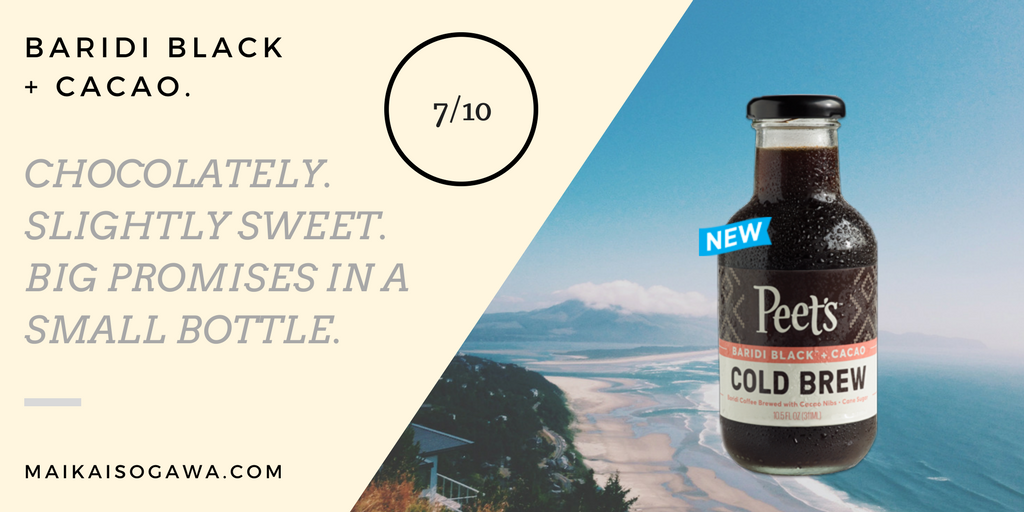 This is a new player to Peet's cold brew game. It boasts Guittard cacao nibs that'll give it a velvety chocolate finish. I wanted to love this. I think it was the sweetness that threw me off… I wanted it to be bitter. But if you're a fan of chocolate and a hint of sweetness without all the milk, this is it.
3. COFFEE AU LAIT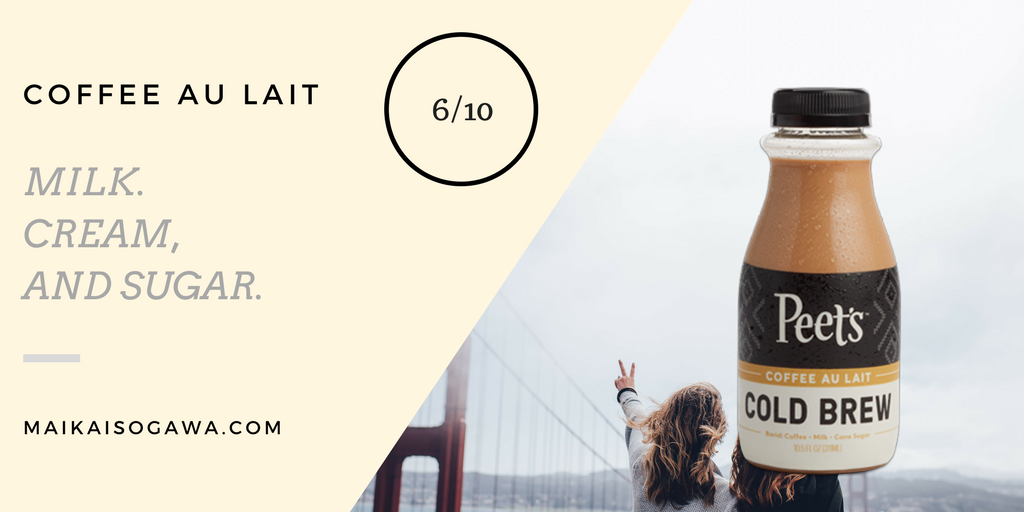 This is definitely my least favorite out of all of the flavors. Remember when I said completely biased? This is why. First, I don't really drink milk. Cream and sugar in my coffee is not my jam. It's also very milky. But hey, at least they use RBST-free milk, so major points for that.
4. DARK CHOCOLATE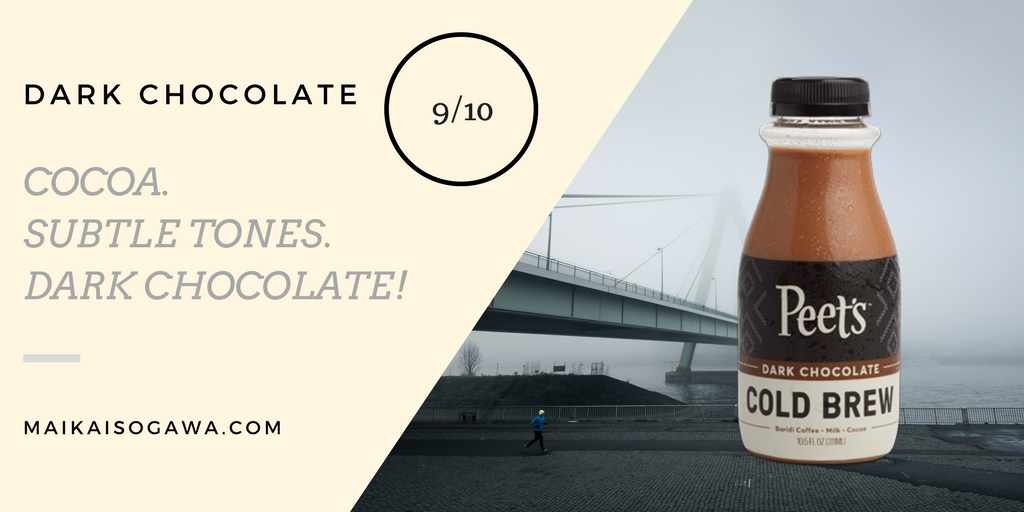 So this one also has milk in it, but I'm willing to overlook that because DARK CHOCOLATE. Seriously it's so good. An incredible sugar bomb, it's like an iced mocha and a chocolate lava cake packed into a tiny bottle. Really, really good. But my favorite is still coming up.
5. ALMOND MILK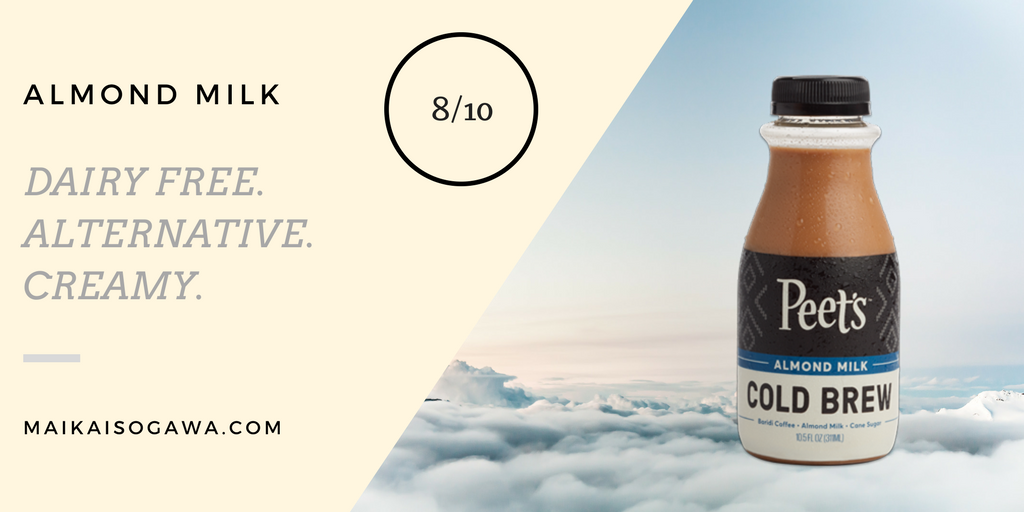 Big props for Peet's bottling a dairy-free alternative. I miss the creamy, milky coffees that require milk, so using almond milk recreates that. The almond milk cold brew is sweet and creamy, and definitely good for an afternoon pick-me-up. It's gotten me through a few classes already.
6. THE BLACK TIE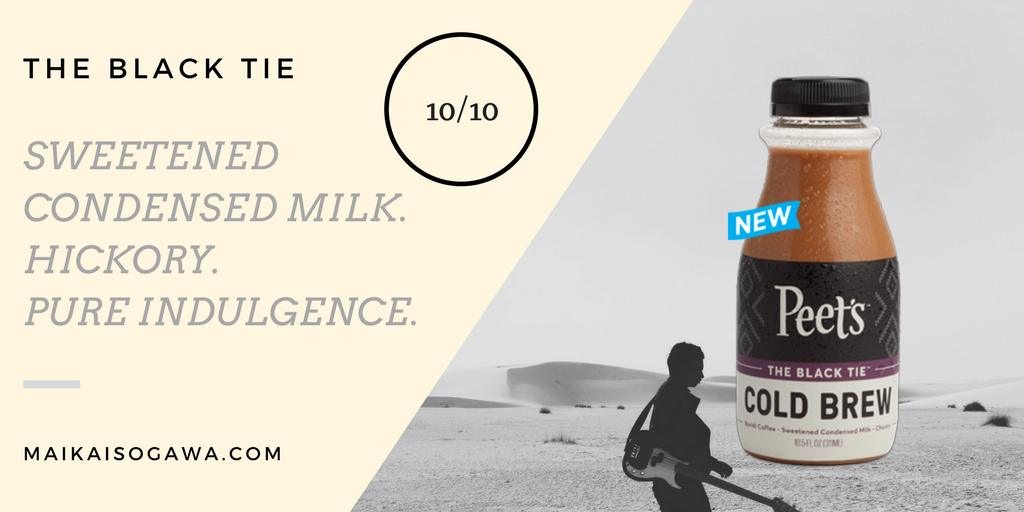 Alright, hands down the best cold brew. It's inspired by an item on Peet's coffeebar menu, but I associate this more with thai tea. The sweetened condensed milk is a suckerpunch of flavorful sweetness, and the hickory provides undertones that I've never tasted in a cold brew before. Yes yes yes, the black tie wins a spot on my go-to coffee repertoire. 10/10.
…
Have you tried any of Peet's new cold brew coffees? Let me know what you thought of them @maikaisogawa on Instagram or Twitter, or comment below.
#ilovecoffee