The precious double-dark. Two consecutive days off, gifted to us every couple of weeks, allowing for mini-trips and a short taste of real life. I opted to visit Hiroshima  and the nearby Miyajima Island. Despite how unprepared I was for the emotional and physical weight of the trip, it was incredible. Here is my itinerary for the two-days. It's easily repeatable, and I've added extra information at the bottom if you want to use this as a resource to plan your own trip.
…
I thought I was visiting Hiroshima for the first time (actually my second trip – my dad informed me that I'd been there once when I was 2). I don't think about my heritage often, but being both Japanese and American, it was important to make this trip while I had the chance, and at an age where I could understand the circumstances of the events that took place.
Day 1
8:00 am start, I leave the hotel with my travel buddy (backstage manager) and head to Hakata Station [博多駅ー福岡]. After purchasing non-reserved seats (¥8420), ekiben (¥980 train station bento), and a fresh cup of coffee (¥340), we hopped on the Sanyo Shinkansen towards Tokyo. Just over an hour later, we arrived at Hiroshima Station.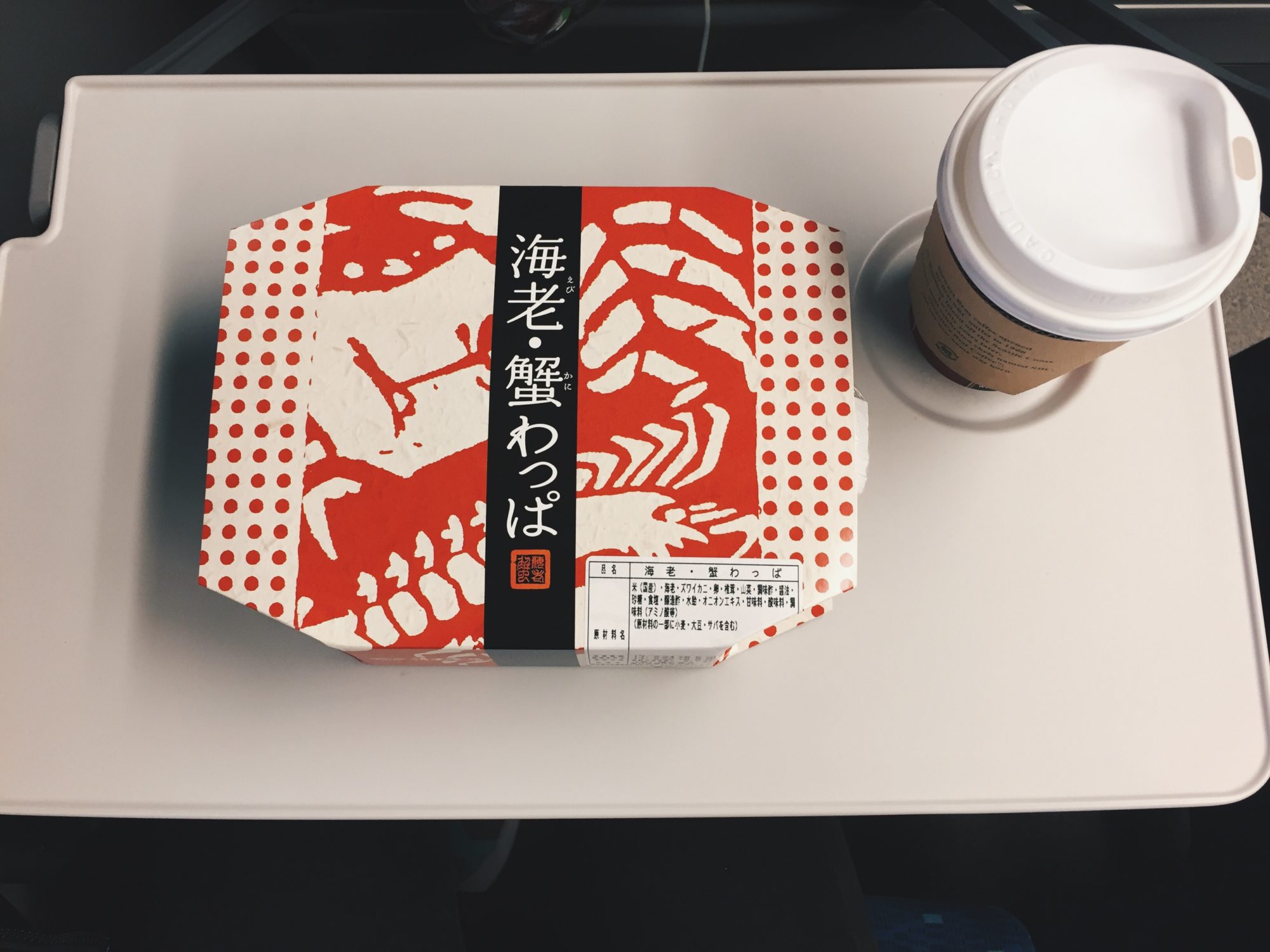 We picked up the one-day railcar and ferry pass (¥840), a map of various tourist destinations, and headed towards our first stop: the atomic bomb dome. The local trams reminded me of the inter-city trains that ran in downtown Melbourne, Australia, but with better heating. The weather was overcast, just on the verge of pouring down. Dark and still, the cinematic atmosphere really set the stage for the heavy history we were going to experience that day. But just as we arrived at the dome, the sun broke through.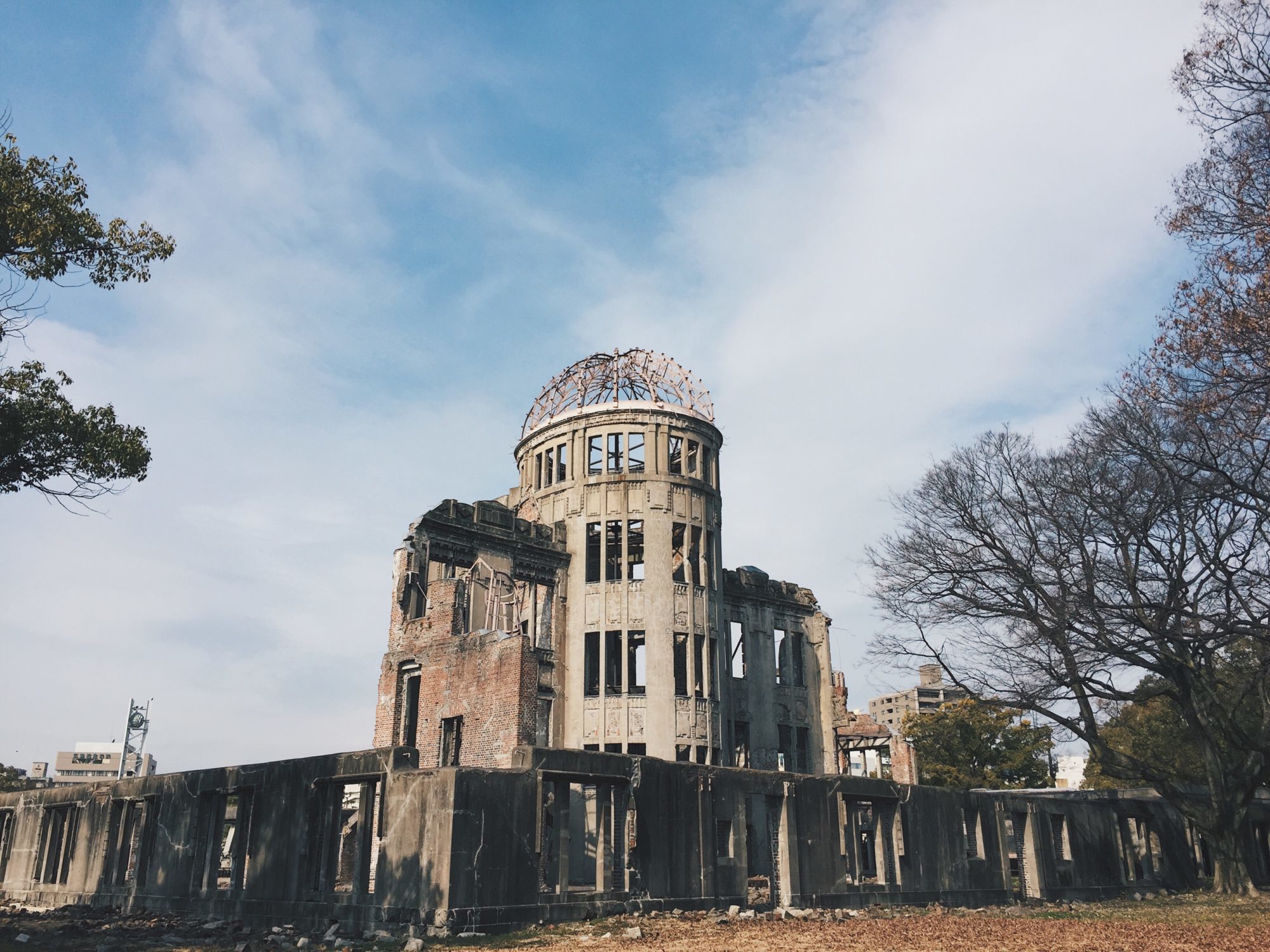 On August 6th, 1945, the atomic bomb was dropped on Hiroshima, Japan, in a horrific act of human conflict. Standing at the epicenter of the attack, you look at the bones of the dome, still in-tact. Despite my analytical mind, chattering away the scientific explanation of why this building happened to still be standing, I couldn't see the structure as anything short of a miracle. But the destruction it represented, and stood for, remained engraved in the rubble, and on the minds and hearts of every person who laid their eyes on it.
[I won't muddle this post with a bunch of historical facts and tearful emotion, but here are a few articles if you care to read further (and I recommend doing so).
Peace Park was beautiful. We strolled through, visiting the various monuments and statues. Groups of school kids moved through the park in matching uniforms and neat lines. Tourists snapped photos. There is a courtyard in front of the Hiroshima Peace Memorial Museum. If you stand just right, as you look through the stone arch, you'll be in line with both the burning flame, and the a-bomb dome. I'm not a cry-baby, nor was I particularly emotional that day, but as I stood in that line of sight and snapped a picture, a single tear snuck out from underneath my sunglasses, and ran down my cheek. I wiped it up quickly, confused. I attributed it to the cold wind and sniffles, but it was a strange, solid tear. Weird.
FOOD. After visiting the Memorial Museum (¥200), my stomach was grumbling. Hiroshima is famous for its okonomiyaki. The uniqueness comes from it's use of noodles as the base of the dish. We searched for the shop that was recommended as the, "best okonomiyaki in Hiroshima." Sadly, it was closed, so we found ourselves at a place just down the street, on the second floor of a small building (You can find okonomiyaki restaurants just about everywhere around the city). Called うずしお (uzushio), the review's aren't great, but the signatures and signed collectables that lined the wall seem to signify that it's a popular destination.
I ordered the 'mix,' an okonomiyaki with lots of seafood and topped with an egg (¥1400). Gone in record time. Hiroshima is also known for its tsukemen (a form of ramen, so if you're feeling soup-ey, go for that.
Coffee was next. We stopped at 7/11 to use the ATM. Rifling through a colorful magazine, I came across a convenient ranking of local coffee shops. "Obscura Coffee" was #1, and only 0.2 miles away. We had a winner.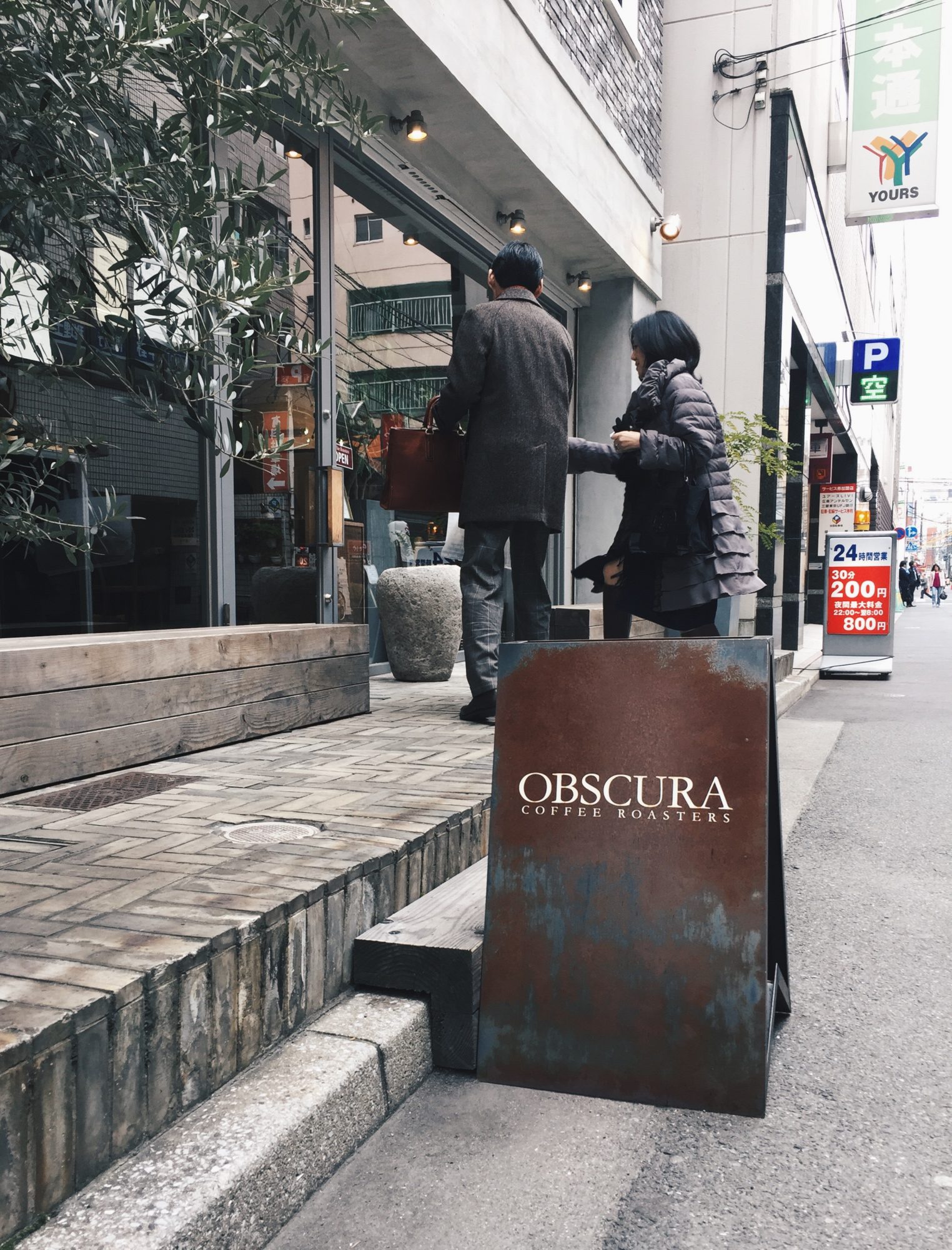 Located on a side street between tall, shiny office buildings, Obscura is every coffee snob's dream. Minimalist decor with minimal seating, the space is clean and catered towards all the fancy coffee equipment and wide variety of beans. The man attending the counter, thick-rimmed glasses and a freshly ironed apron, presented a long list of bean options.
I asked for his person recommendation, and he lit up, pulling out tin boxes filled with coffee beans. He went on and on about the depth of the roast, the aromas and flavors, the subtle tones of mahogany and almond. His voice was so soft that even when I leaned in and tuned my ears, I could barely hear him. After all of his heart-filled explanations, I chose the 'chocolate blend' because I'm a basic 20 year old girl. Plus, saying it tastes like a charred piece of wood doesn't exactly sell me on the product. #StarbucksIsLife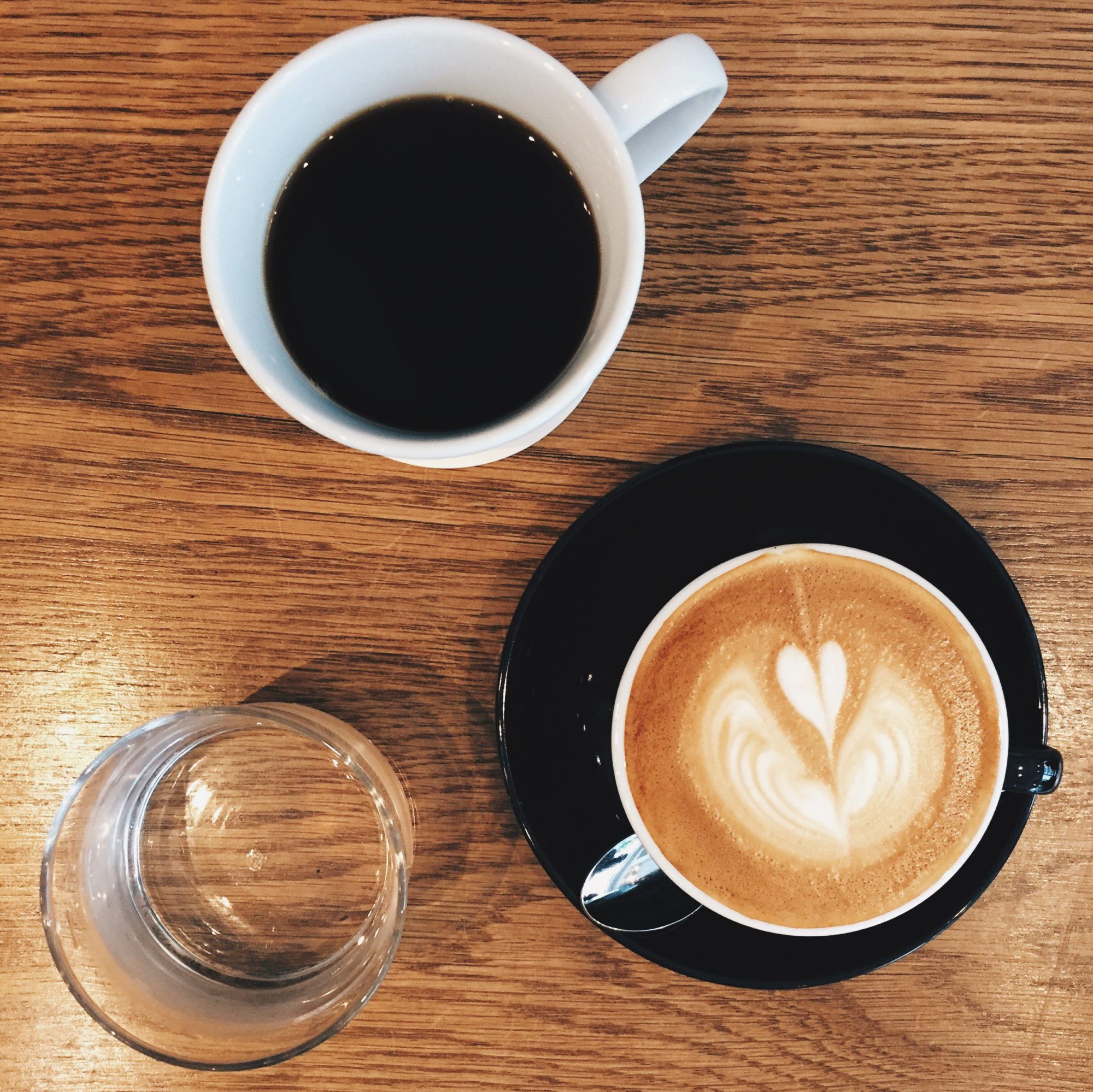 One overpriced hot beverage (¥550) later (delicious though), we hopped on the tram headed towards Miyajimaguchi port. The railway car was slow and steady. Along the way we watched as old couples hopped on and off, local inhabitants going about their daily business. There were no spectacular sights along the way, but as we traveled further from the city, a quiet air set in. From the port, the ferry took 10 minutes to Miyajima Island.
We were greeted by deer. They've grown used to humans, and have no problem walking up to you in search of food. Following the crowd, we made our way into town, and found ourselves along a bustling shopping street.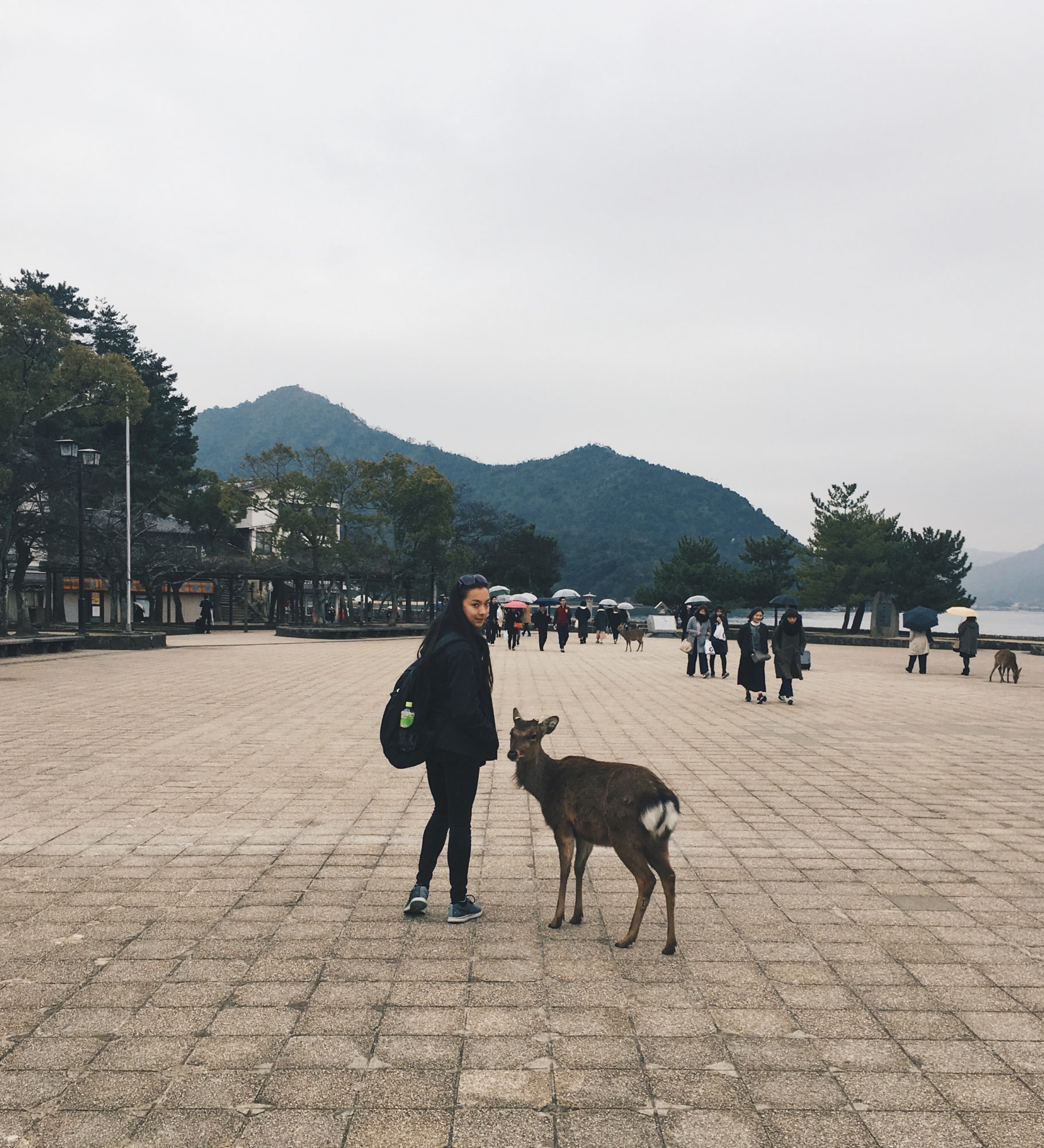 FOOD. If you like street food, you're in for a treat. Oysters are famous on Miyajima, and February just happened to be the oyster festival (lucky me!). Food stalls lined the streets, along with local vendors and other specialty shops. Taking in the sights and smells, I eagerly moved from store to store, eyes filled with wonder.  Also famous on the island is a snack called momiji-manju (¥200). Inspired by the momiji leaf, this Japanese treat is often filled with red bean, but you can find a variety of fillings like custard, chocolate, sweet potato, and more. There's also a deep-fried, and croissant version of the delicacy.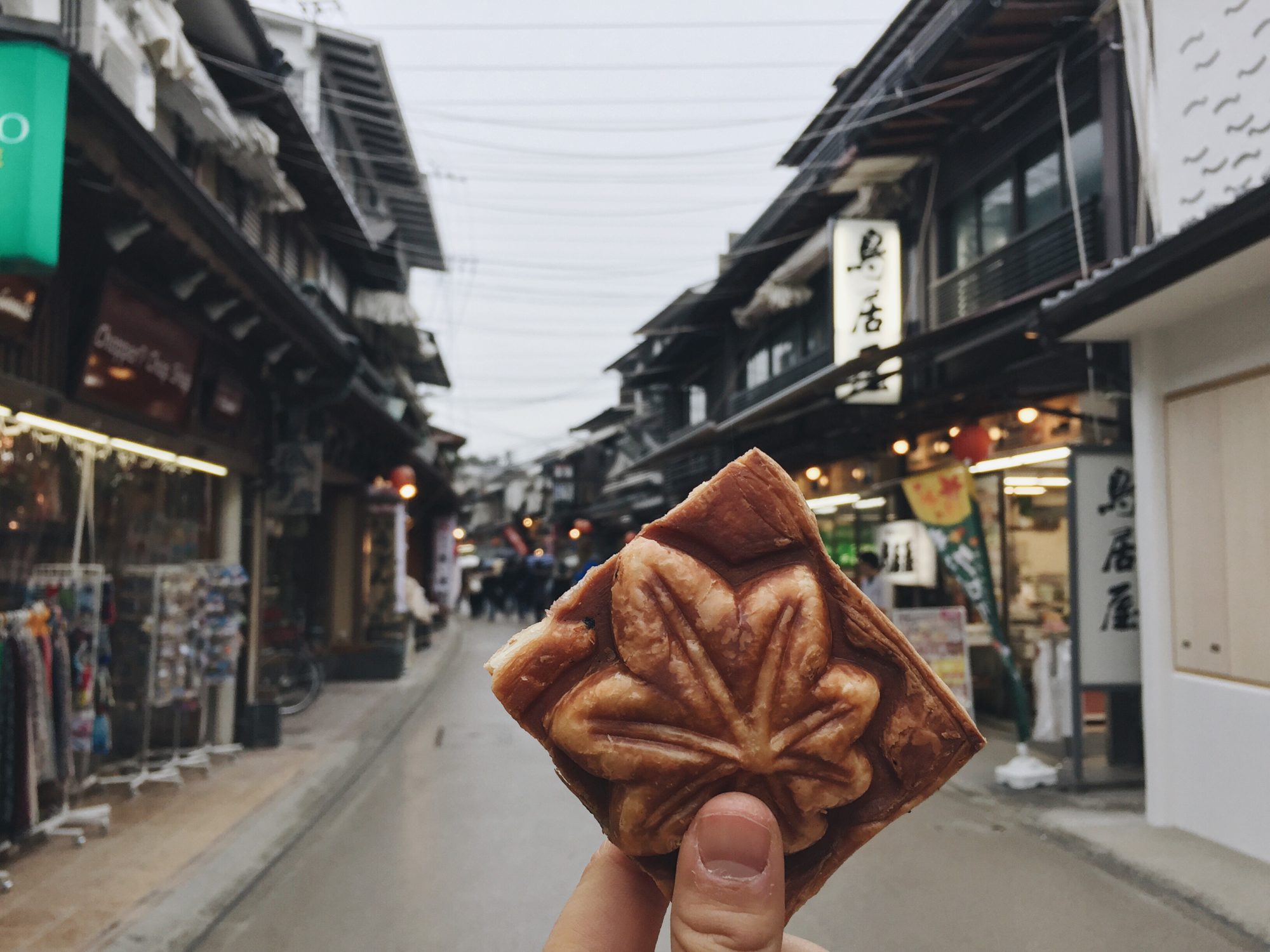 The real winner of this walk of food was the, 'oyster curry bread,' that we came across on our way to the ryokan. It's a culinary love-child between Japan's curry bread, and the island's steamed oysters (¥400). Do not miss out.
If you're planning to stay overnight in the Hiroshima/Miyajima area, spend a little extra and splurge on a ryokan on Miyajima Island. The lavish meals (local ingredients and dishes), quiet nature, and spectacular onsen are just part of the whole experience. I stayed at Iwaso, one of the top-rated ryokans on the island (because i'm a princess). There's a tea house next door, a tranquil garden, a stark red bridge… picture perfect.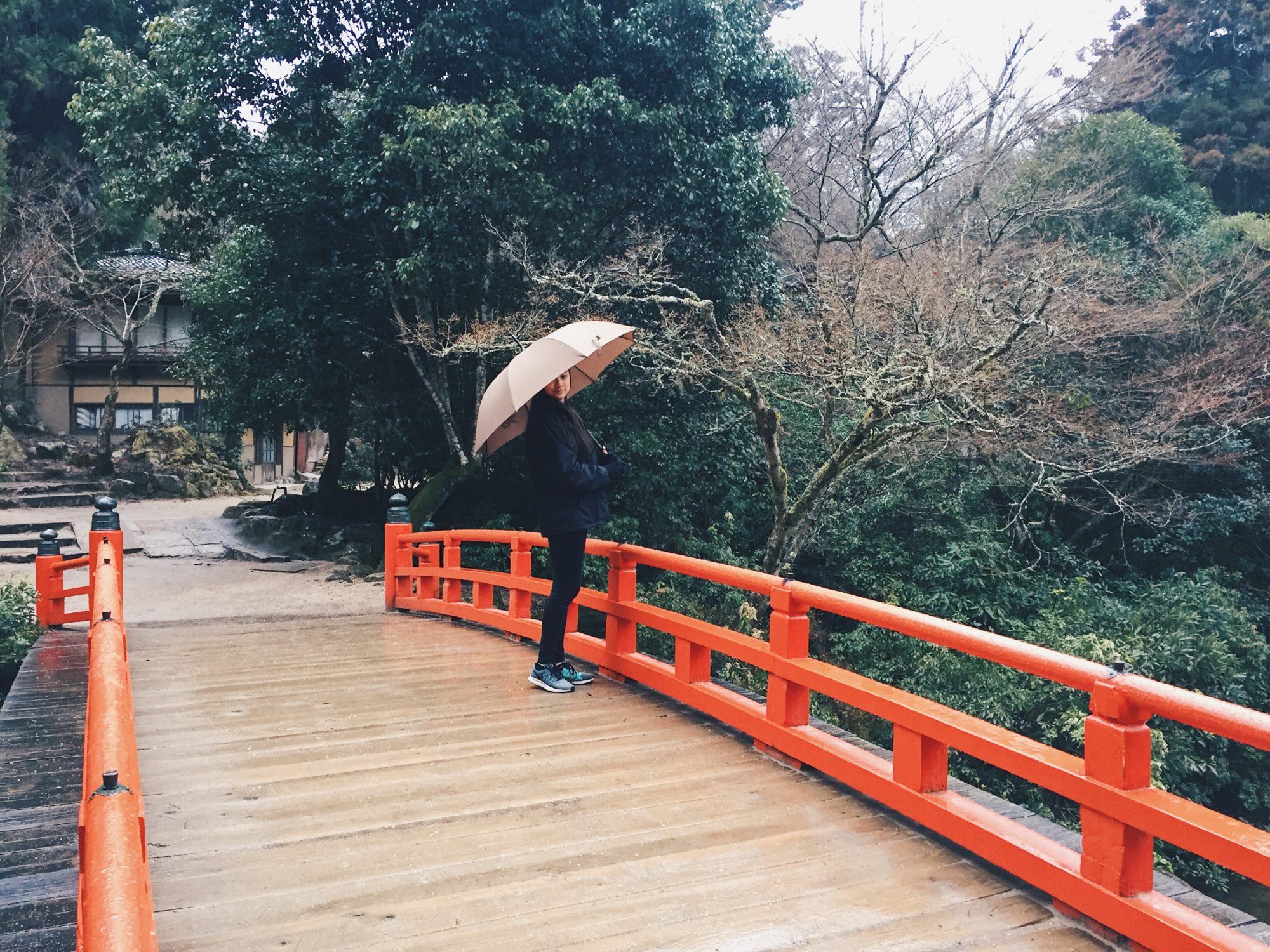 Upon check-in, our polite hostess served us tea with momiji-manju, inquired about our meal time preferences, and gave us a full explanation of the amenities and services of the hotel. The tatami room was cozy and had a stunning view of the forest. Perfect for a trip away from the city.
We had plenty of time before dinner, so we grabbed umbrellas and headed off into the quiet streets. Late afternoon, the sight-seers were gone and shops closing for the day. The slight drizzle of cold rain fit perfectly with the silence of the stone-laid roads. Miyajima takes peaceful to a whole new level. It was high tide, so the famous torii was truly, 'floating.' We circled by a few of the temples, and made our way back to the ryokan.
Onsen time. Iwaso has both an indoor and an outdoor hot spring bath. Imagine: relaxing in hot natural spring water, rain lightly tapping on the ground around you, chilly air brushing your face, the light falling through dusk… yeah.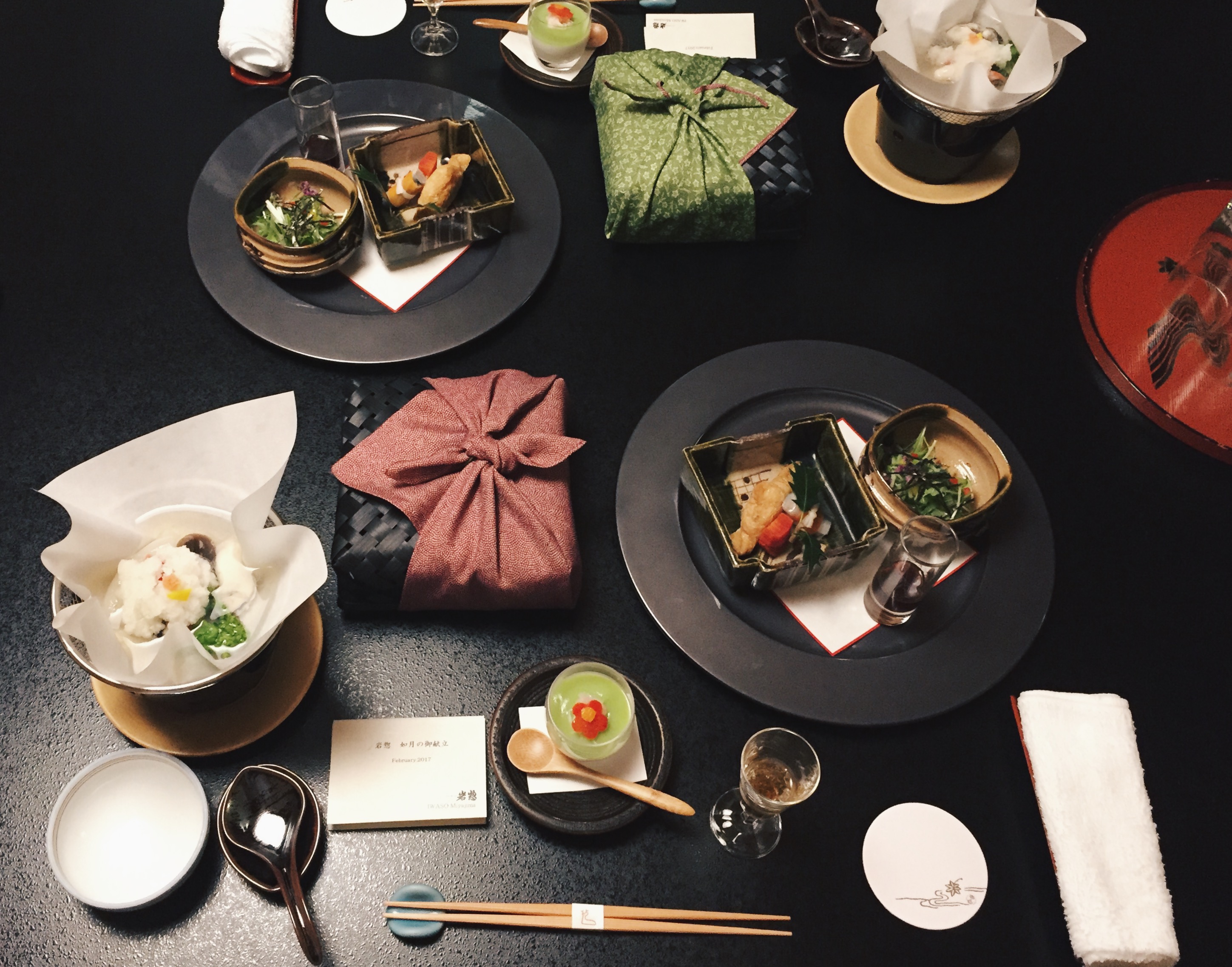 Dinner. Hell. Yes. Nothing beats a full-course, traditional ryokan meal. Aperitif, appetizers, another plate of appetizers, oysters, fish dish, grill dish, hot pot dish, rice dish, soup, dessert. Warm body and fully belly, I tucked into the futon for some necessary z's.
Day 2
6:30 am, the small stream outside caresses the mist as dawn approaches. I head down to the baths below, taking in the magical morning. Breakfast was a set course, traditional Japanese, complete with tea and coffee, along with a small buffet for those with hungry bellies (me).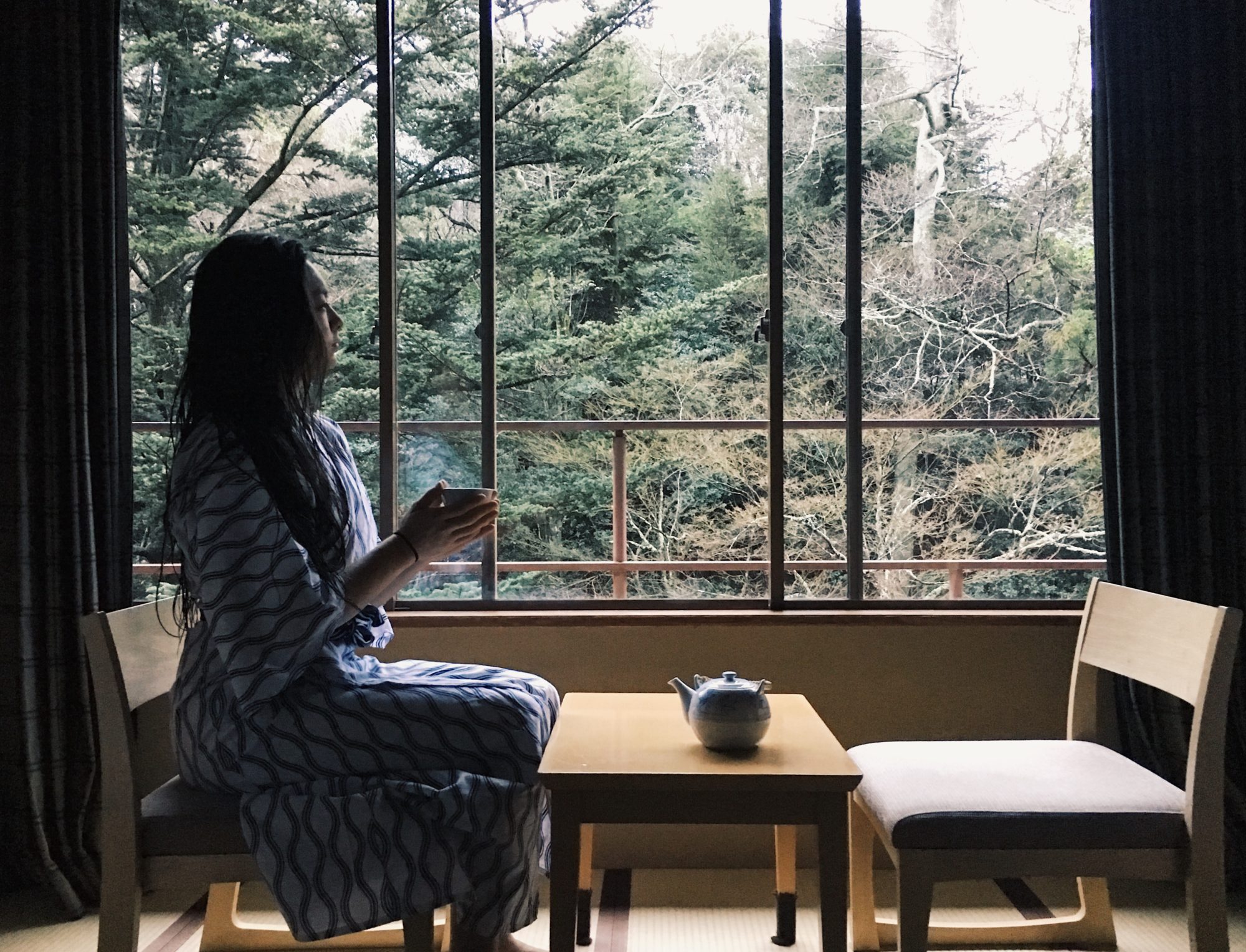 After checking out of the ryokan, we decided to hike Mount Misen, the highest peak on Miyajima Island. Unfortunately, the cable car wasn't running from January 31st to February 28th, but we decided to make the trek anyways. There's 3 paths up the mountain – the man at the hotel recommended our particular route (up the nature path, down the steeper path). Do not underestimate this hike. I like to believe that I'm in pretty good shape, but this was the hardest hike of my life. Expect uncontrollably shaking legs, and really tight calves and glutes the next day.
It's worth it. The sky opens up. There is no feeling that matches that moment when you reach the peak of a high mountain. Enjoy all of the top-of-the-world thoughts and happy hormones as you overlook the ocean and endless sky. An old man may ask you where you where you're from, and offer you a rest up on the pavilion up there. (How did anybody manage to build something up here? And those TEMPLES)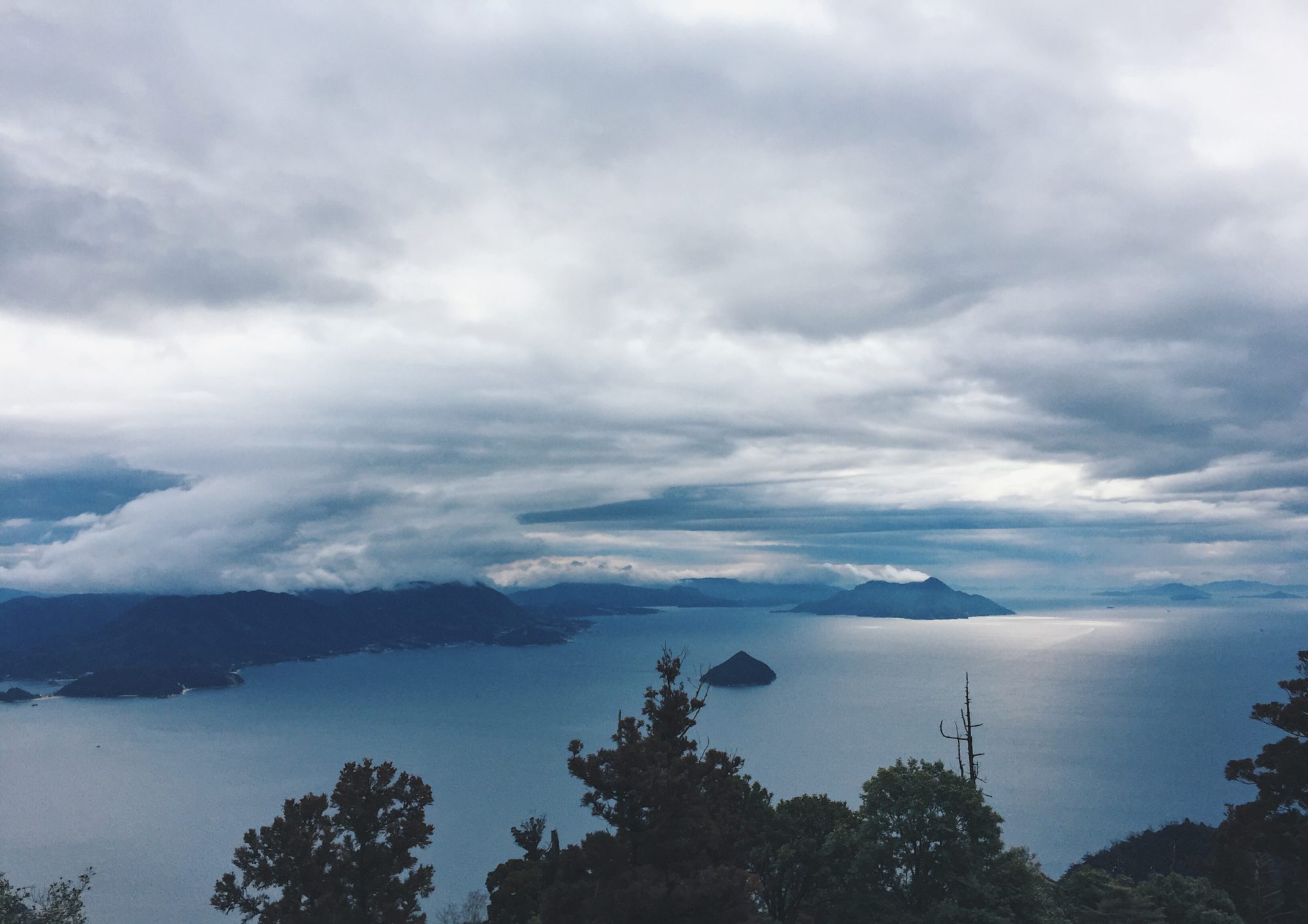 Heading down the mountain is an entirely different battle. Be careful, and don't feel bad when elderly Japanese men fly past you on this hike. They'll probably say hello as they pass.
After finally making it back to town, we were ravenous. On the search for lunch, we couldn't wait and grabbed some kamaboko on a stick for an appetizer. We made it to a restaurant, and just as we sat down, a long queue formed outside. Good timing. Oyster 3 ways, grilled, raw, fried, and I demolished it all. Sweet potato ice cream and coffee followed.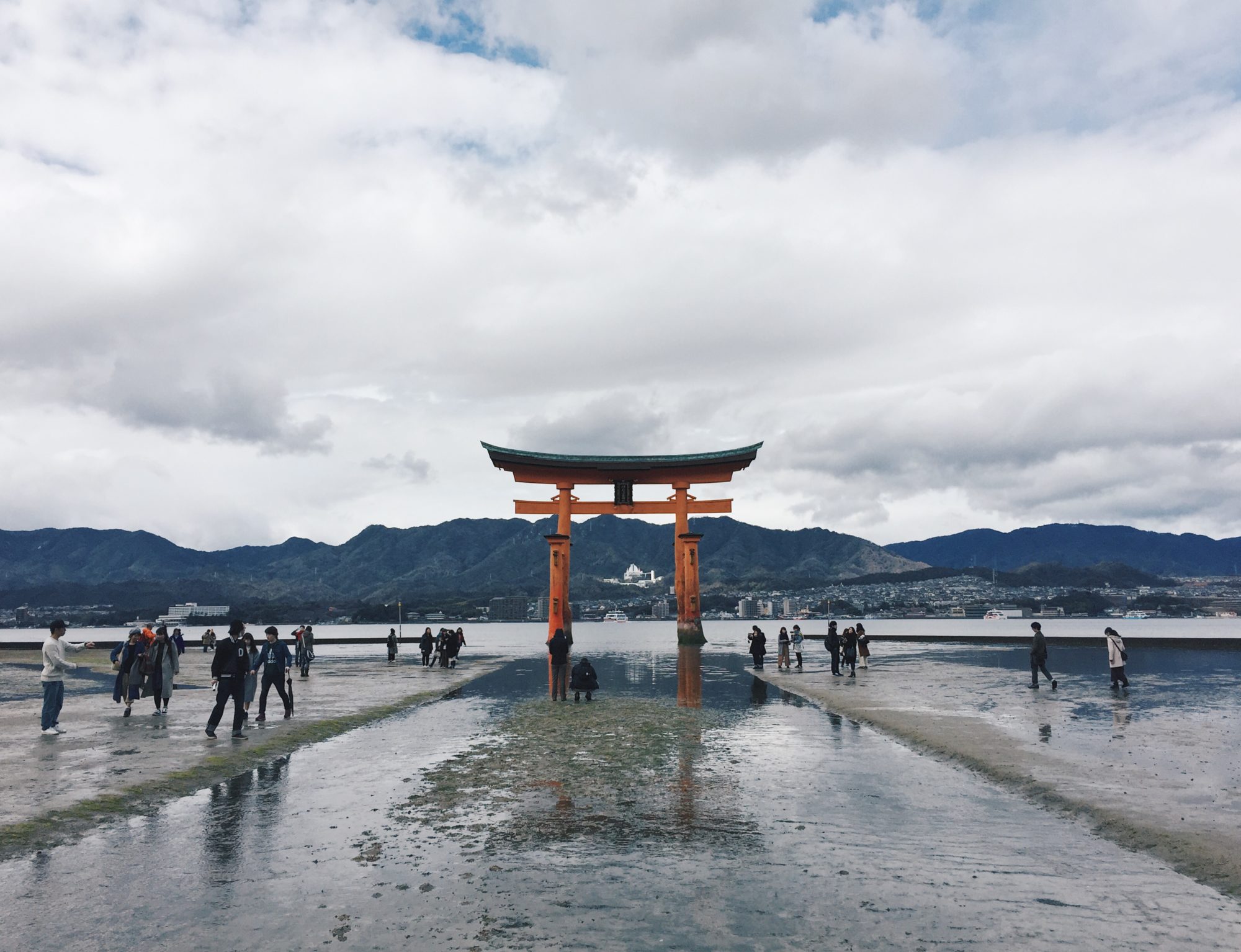 A few more temples on the island, and at low tide, you could walk out and touch the famous floating torii. We hopped on the JR ferry and train back to Hiroshima Station, and grabbed the shinkansen to Fukuoka in the early evening. We could have seen a bit more in Hiroshima, but that mountain hike was crushing.
…
Even if you only have a limited amount of time in Japan, I still recommend that you visit Hiroshima. It can be a relatively short trip, and if only purely for the historical significance, it's a huge event in human history.
To see the destruction and pain that human beings are capable of inflicting, on each other, is not only eye-opening, but also repulsive. Hiroshima will forever stand as a cautionary lesson, in hopes that something like this will never happen again.
We can only hope.
On that note, please do visit Hiroshima. Support the maintenance of the sites, and thank the volunteers. Enjoy the local cuisine, and bathe in the ironically beautiful and peaceful nature of that area.
…
Below I've added some more information that may help to plan a trip to the Hiroshima area. If you enjoyed this post, please share it using the social media buttons above/below. Thanks for reading!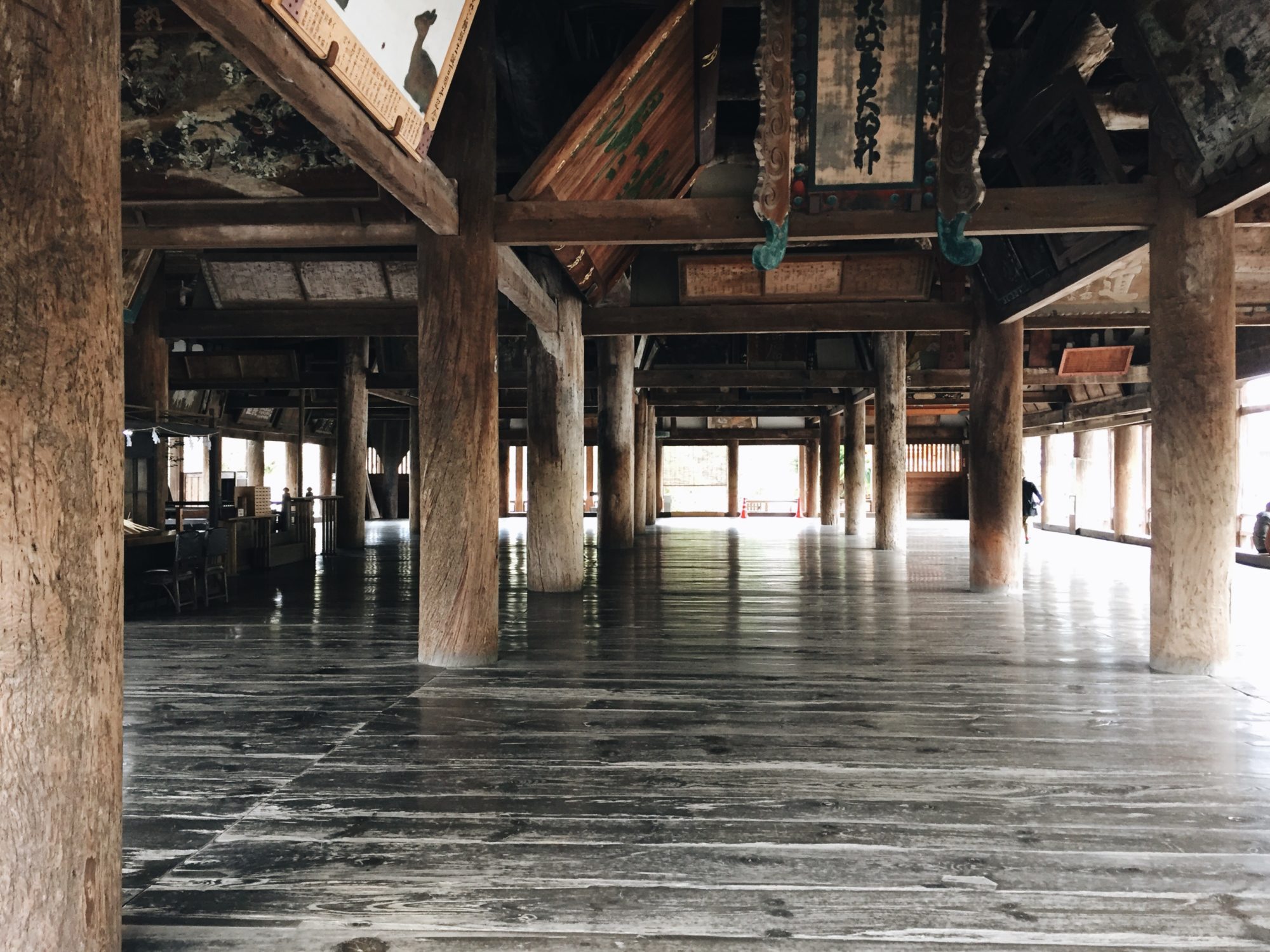 Other places to visit/things to do in Hiroshima:
Beyond the places that I visited on this trip, there's a few more attractions that may be worth a visit in the area.
Traveling to/around Hiroshima:
Getting to Hiroshima is super convenient. Unlike other shinkansen stops that require you to change trains to actually get into the city (Shin-Osaka, Shin-Yokohama, etc), the Hiroshima stop is right in the city, by all of the historical sites. You can get there by Shinkansen, local train, and even by plane. The Visit Hiroshima Website provides detailed instructions on transportation, whatever your choice of method may be.
If you plan to only spend a day in the Hiroshima area, pick up the one-day pass (¥840). You can purchase it near the station, right where you board the rail car. Scratch off the corresponding date, and show it to the attendant each time you disembark the railcar. It lets you have unlimited rides on the local tram (not the JR lines), and includes the price for the ferry to Miyajima. It's perfect to hop on and off to get around the sights of the city.
The city itself is compact enough, that if the weather permits, you can leisurely stroll from site to site. There's also a sightseeing bus that will drop you off in front of all of the different spots. Yay Japan!
Traveling to Miyajima Island:
There are a couple options to get to Miyajima Island.
If you're traveling from Hiroshima Station:
The JR train (~30 minutes) is the fastest option to Miyajimaguchi Station. Warning, it doesn't really stop inside the city.

The cable car (~70 minutes, stops at all stops) is another option. Car 2 is the only car that goes all the way to Miyajimaguchi station. This option does take longer, but if you plan to make stops inside the city (like we did), the time may even out compared to the JR option. Plus if you're not in a rush, it's a fun way to see the neighborhood's quieter areas as well.
Once at the port, hold off on eating anything. It will be tempting, but wait until you get onto the island for some great street food!
There are two ferry companies that run boats to Miyajima Island. They both take the same amount of time and go to the same place, so it doesn't matter which one you use. (If you bought the 1-day pass, you'll be using the non-JR ferry). It's a quick 10 minute boat ride to the island.
Enjoy your trip!